The third consecutive Supplier Survey confirms high trust and satisfaction with RB Rail AS tendering process.
"By introducing the Supplier Survey in 2018, we established a platform for fair and transparent feedback. The Survey helps us to understand how the market views RB Rail AS procurement practice and identifies the areas for improvement. This is very important to us and our stakeholders – the results objectively display the status quo and also allow the new suppliers to gain confidence in taking part in the upcoming tenders," says Kristjan Piirsalu, RB Rail AS Chief Procurement Officer.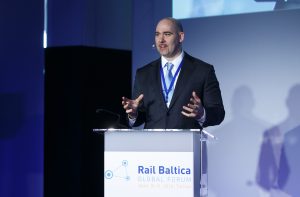 Kristjan Piirsalu highlights three main findings – "Firstly, the increased numbers in "fairness in evaluating the procurement process". In 2018 90% respondents agreed or mostly agreed that they were treated fairly and equally throughout the procurement process, in 2019 it was 92% and this year 95% with zero respondents who replied negative. Also, 90% of respondents confirmed the willingness to take part in RB Rail AS procurement exercises in the future, 10% responded "maybe" and no negative replies were received (the respondent group also includes those suppliers who did not win the procurement.) So we can see clearly, the businesses see the future potential."
Piirsalu continues: "Secondly, the results are only improving over time and that is a result of the continued work of RB Rail AS with the improvement of the procurement policies and proactive communication with the market. Thirdly, supplier profiles are becoming more diverse – starting from small businesses like IT consultancies and ending with global players like Deutsche Bahn, IDOM, INECO, Ramboll, for example, just to name a few, so the businesses are seeing various opportunities throughout the project development stages."
"Lastly, we observe that the Covid-19 pandemic has left its impact also on our suppliers – 75% have been affected in one way or another. This has to be taken into account when planning the next procurement policies and processes."
An important lesson learned from the previous surveys is planning – suppliers indicate the need for more precision in the procurement processes that is currently being addressed together with the risk management approach that has been rolled out since 2019. Therefore, this year's open comments will also be considered and put into action.
Key Facts:
RB Rail AS supplier survey is being conducted once a year since 2018.
76 suppliers from more than 20 countries took part this year.
Participants equally represent large, medium and small companies and diverse countries.
Supplier profiles, which are taking part in the survey, have changed during the last few years as the project is progressing (TOP 3 in 2020 – material suppliers, construction and design).
Overall, 70% of respondents evaluated the quality of RB Rail AS tendering process as high and very high.
Suppliers are satisfied with the available information on the procurement processes.
Rail Baltica website railbaltica.org and Procurement Newsletter are the main channels to obtain the newest information.
Quality of procurement documentation can be further improved, while RB Rail AS will need to take into account Covid-19 caused.
Please click here for the full suppliers survey report.
In 2019 RB Rail AS concluded 66 procurement contracts with the total value of 64,2 million Euros, including 25 public procurement contracts announced in 2019 and 11 contracts resulting from procurement procedures published in 2018 which were completed in 2019.
Click here for information about the indicative Rail Baltica Global Project tenders for 2020 in all three Baltic States.