The Rail Baltica Global Cost-Benefit Analysis (CBA) confirms that the Rail Baltica project is financially and economically viable. The study reaffirms the project's economic feasibility and highly beneficial nature, providing the necessary updated parameters for the project's continued EU and national co-financing.
The Ernst & Young Baltic Ltd (EY) prepared study is a Cost-Benefit Analysis of the whole Global project – public-access railway infrastructure in the three Baltic states. The key aim of this study is to re-assess the economic case for Rail Baltica in light of the amended route alignment and expanded project scope since the 2011 AECOM study, and to provide new parameters for long-term project financing.
The study suggests that the total estimated cost of the project is 5.8 billion in all three countries. Estonia – 1.35 billion (national share ~268 million); Latvia – 1.968 billion (national share ~393 million); Lithuania – 2.473 billion (national share ~493 million).
Measurable project socio-economic benefits – estimated at 16.2 billion euro – will far outweigh national co-investments. Furthermore, it is assessed that the project would create a GDP multiplier effect worth an additional 2 billion euro. In addition, there will be substantial unmeasurable benefits (mostly of a catalytic nature). There will be considerable unmeasurable benefits from a strengthened Baltic business community to greater regional access to entertainment, culture or other services. Therefore, the project is economically viable, as the benefits to society considerably exceed project capital and operational expenditures.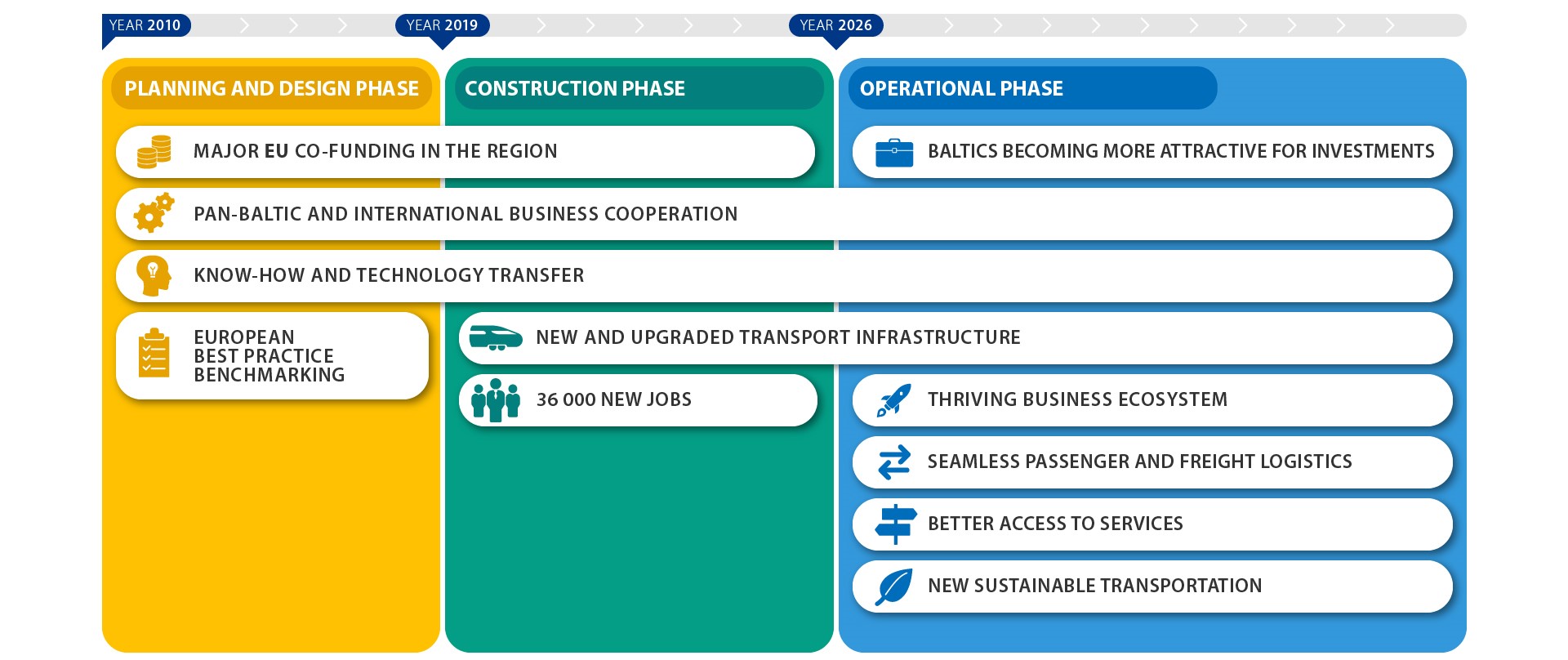 The Rail Baltica project will create 13 000 full-time equivalent construction jobs and over 24 000 FTE indirect and induced jobs in related industries during the construction phase. Moreover, during the operational phase, Rail Baltica will create the conditions to save 400 human lives, equivalent to average annual value of 30 M EUR. It will create CO2 emission reduction benefits worth 3.0 billion EUR and air pollution reduction benefits of 3.3 billion EUR value – contributing greatly to the EU's global leadership in environmental sustainability.
In 2030, it is estimated that infrastructure maintenance costs for the entire railway line in all three countries, for example, for track, traction, bridges/tunnels, terminals and stations, etc. will be 58.9 million euro.
The study also verifies that the infrastructure manager is financially sustainable in the long-term, following an initial 5-year period of national financial support (28.6 million euros shared by the three Baltic states) during the project uptake stage as Rail Baltica achieves its intended potential.
Passenger travel
Rail Baltica will be a game changer, especially, for intra-Baltic travel. Rail Baltica competitive advantages for passenger travel are:
Speed,

time savings

, comfort, productive travel time,

safer and environmentally sustainable means of transport

;
Regular connections – the international train service will be available at least once per two hours on the main line (resulting in eight train pairs daily in each direction);
Estimated ticked price: Tallinn – Riga 38 EUR; Time = 1:55 min; Riga – Vilnius 38 EUR; Time = 2:01;

Time saving

benefit: it is estimated that 2.4 billion EUR.
Potential regional stations: Estonia – 10, Latvia – 15, Lithuania 11.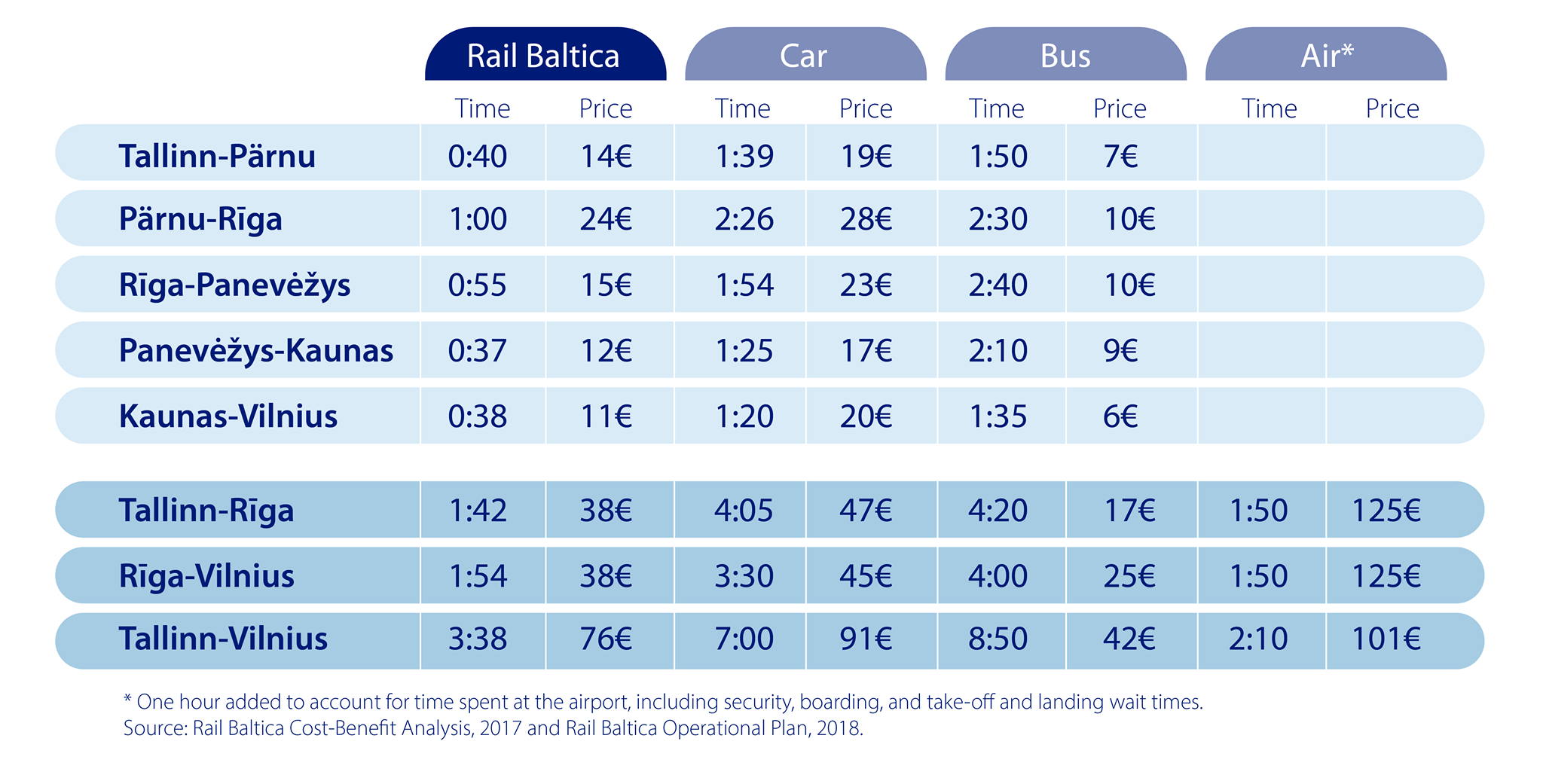 Freight
Rail Baltica's competitive advantage for freight:
Speed

– freight transport between the Baltic States and Central European destinations would take less than 2 days while the same route for trucks takes up to 4 days;

Reliability

– with predictable and regular schedules, limited stops and high resilience to unfavorable weather conditions, supply chains via rail can be organized on just-in-time basis, especially when efficiently aligned with other intermodal supply chain elements (e.g. Gulf of Finland ferry schedules);

Full loads

– Rail Baltica would connect several key stopping points (hubs) where full loads can be obtained, thus limiting empty kilometers;

Cost

– the transportation cost compared to road transport will decline in medium to long distances, thus extending the geographical scope of the Baltic States' and Finland's foreign trade markets enabling to supply at the same cost to/from more distant markets;
Time saving benefit from freight – 2.9 billion EUR.
CBA is just one of the decision-making instruments in a whole set of studies and expertise that have been or will be developed during the RB project implementation process. Therefore, this CBA is to be viewed in combination with such key documents as the Rail Baltica project long-term business plan, a series of commercialization studies, an infrastructure management strategy study, supplier market studies, an operational plan and other related studies.