Rail Baltica is a greenfield rail transport infrastructure project with a goal to integrate the Baltic States in the European rail network. The project includes five European Union countries – Poland, Lithuania, Latvia, Estonia and indirectly also Finland. It will connect Helsinki, Tallinn, Pärnu, Riga, Panevežys, Kaunas, Vilnius, Warsaw. The Baltic part of the Rail Baltica project is referred to as the Rail Baltica Global Project.
The largest Baltic-region infrastructure project in the last 100 years
A 10-year construction period
For both passenger and freight traffic
Length: 870 km
Environmentally friendly – powered by electricity, produces less noise and vibration
Max. speed: 249 km/h (passengers), 120 km/h (freight)
More than €5 bn investment in the region
Implemented by Estonia, Latvia, Lithuania
Part of the EU's North Sea Baltic TEN-T corridor
Financed by EU (CEF), Estonia, Latvia, Lithuania
Provides intermodality/multimodality
Full interoperability and completing the wider North Sea – Baltic transport corridor by 2030, while working to commence the first operations on some of the sections still by 2028.
Environmentally friendly
Rail Baltica will be fully electrified so that any emissions will be avoided. The newest technologies and materials are going to be utilized in its construction. The line is planned so that it avoids the Natura 2000 protected areas as far as possible and without significant impact on other environmentally sensitive protected areas. Wherever necessary, noise protection barriers will be installed. Special animal passages will be built through the embankment.
Safe
Rail Baltica will be built according to the most stringent safety requirements. The newest generation of European railway traffic management system (ERTMS) will be used to control the train movement. All crossings with roads and pedestrian pathways will be at two levels. It will be fenced in full length. Passenger stations will have all the necessary facilities in order to make the access to the train services an easy and pleasant experience to anybody.
Modern
Rail Baltica will be built using the most up-to-date technologies and materials. Some of them are still in the process of elaboration, standardization or early stages of commercialization. New intermodal freight terminals will be built in each of the Baltic countries to allow for fast and efficient transfer of containerized cargo between different transport modes. Railway stations will represent the latest developments in the area of multimodal passenger terminals connecting conveniently different urban, regional and long distance services with car and bike parking, shopping and recreative areas.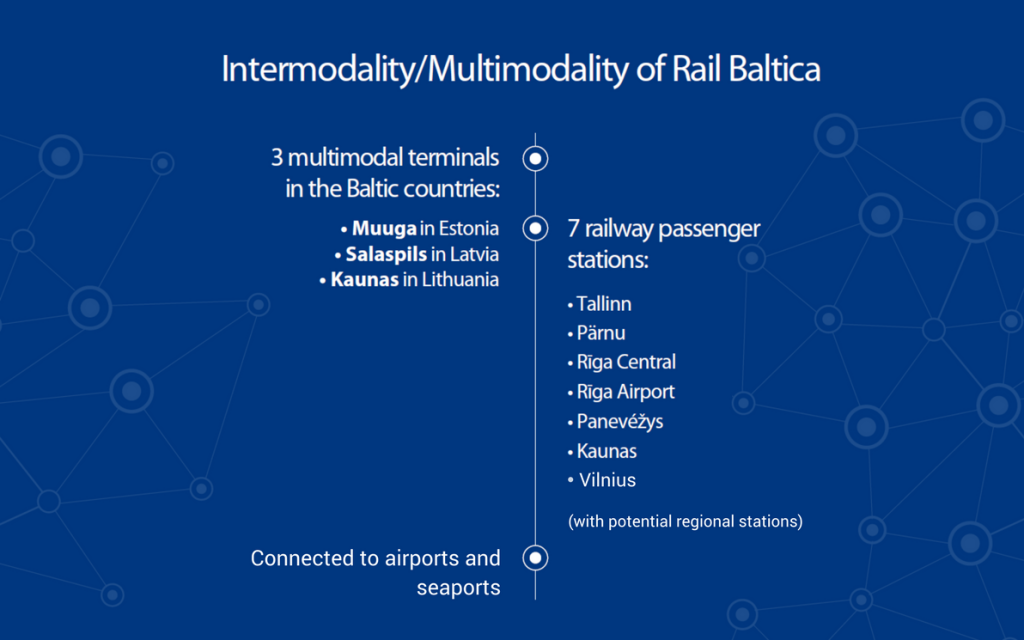 Rail Baltica – North-South railway axis
The Rail Baltica project is a symbolic return of the Baltic States to Europe – until the Second World War the Baltic States were already connected to Europe with 1435 mm wide. But since the middle of 20th century the Baltic countries have been mainly linked to an East-West railway axis using the Russian gauge 1520 mm rails, reflected in current rail traffic flows. Today most rail freight traffic transported by railway in Baltic states originates from CIS countries, in particular from Russia, and rail transport services are mainly provided on East – West axis using existing 1520 mm gauge system which makes it difficult and costly to interconnect the Baltics with the rest of EU via Poland. Therefore, there is a full consensus on the need to eliminate the Baltic missing rail link of the EU's North Sea – Baltic TEN-T Core Network Corridor ensuring full integration of Estonia, Latvia and Lithuania into the single European railway area.
The Rail Baltica project is one of the priority transport projects of the European Union because it will:
Remove bottlenecks
Build missing cross-border connections
Promote modal integration and interoperability