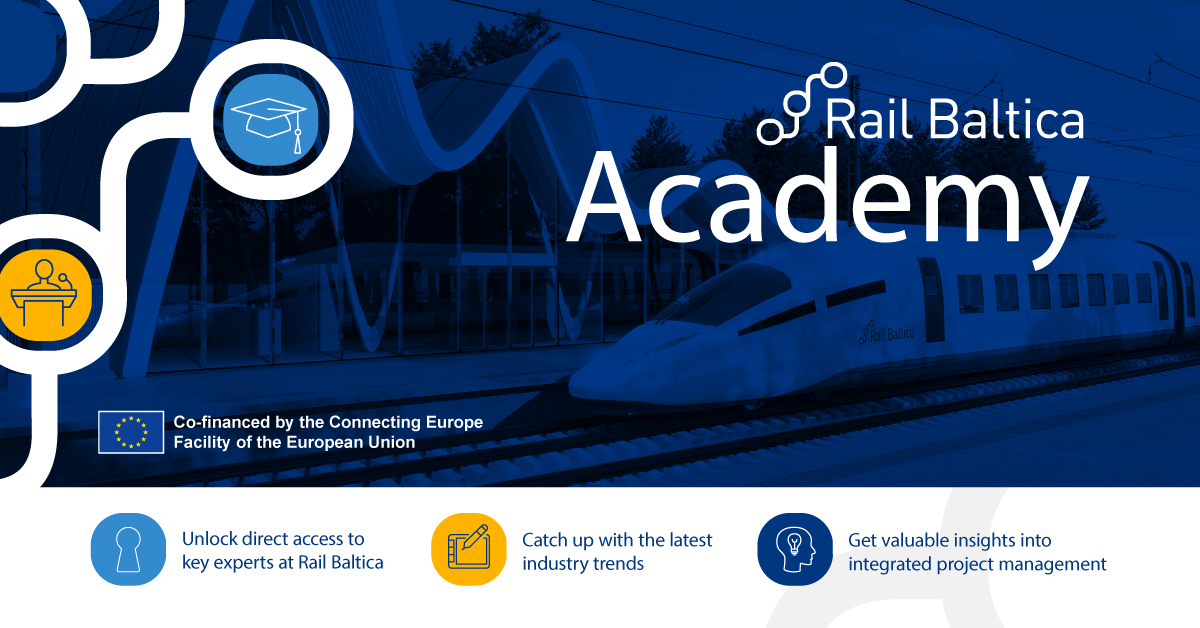 To offer an opportunity to STEM students and the general public interested in railway engineering, planning, innovation, virtual design, construction, environmental and other issues related to the Rail Baltica megaproject, RB Rail AS announces continuation of the "Rail Baltica Academy". During series of lectures presented by the top experts from the Rail Baltica joint venture RB Rail AS and national implementing bodies in Lithuania and Latvia respectively (AB LTG Infra, SIA Eiropas Dzelzceļa līnijas and Rail Baltic Estonia OÜ) and other project partners, participants will have a unique opportunity to access inside knowledge about different angles of the Rail Baltica project.
In the "Rail Baltica Academy" autumn session, extra lectures will be organized in collaboration with Lithuanian Energy Institute, Riga Technical University, University of Applied Engineering Sciences, Tallinn University of Technology and TTK University of Applied Sciences in Estonia.
Sessions will include the following speakers and the agenda*:
Kaur Laansalu, RB Rail AS Technical Project Manager in Estonian branch "Project management – challenges of stakeholder management in large scale infrastructure projects"
Andrejs Mislēvičs, RB Rail AS Signalling and Communications Team Leader "Basics of Control-Command System"
Rūta Blagnytė, RB Rail AS Lead Environmental Expert "Building and operating environmentally sustainable rail: Rail Baltica"
Roland Müür, Rail Baltic Estonia Environmental Manager "Compensating environmental impacts in Rail Baltica project using the example of capercaillie"
Urmas Alber, RB Rail AS BIM and AIM Coordinator in Estonian branch "BIM in Rail Baltica"
Raitis Bušmanis, RB Rail AS Head of Virtual Design and Construction (VDC) "Data in Rail Baltica Global Project implementation"
Andy Billington, RB Rail AS Innovation and Sustainability Expert "Open standards and seamless travelling"
Ēriks Diļevs, RB Rail AS Technical Director in Latvia branch "Sustainability in construction and design"; extra lecture in Riga Technical University
Eric Kammel, DB Engineering & Consulting GmbH "Work with Rail Baltica megaproject and international projects to learn from"
Eduardo Calixto, RB Rail AS RAMS Manager "The Reliability Availability and Maintainability implementation – the railway case study"
Antanas Šnirpūnas, RB Rail AS Power Supply Team Leader "The largest railway electrification project in the Baltic States: Technologies, Value Engineering and Implementation"
Kaur Piho, RB Rail AS Acting Railway Operation Team Leader "Railway operation and services offered on railway"
Jean-Marc Bedmar, RB Rail AS Head of Systems and Operations "Railway electrification – energy subsystem deployment Rail Baltica"
Emilie VanLook, BERERIX, Design coordinator for Architecture and Landscape "Sustainable design solutions in Rail Baltica Riga Central Station project considering the various challenges and requirements"
Mantas Kaušylas, LTG Infra Head of Strategy and International Relations, Rail Baltica Coordination Department "Building Rail Baltica Infrastructure: theory and practise"
*Full list of sessions and information on other upcoming and exciting expert lectures will be published throughout November 2021 on the project's global website: railbaltica.org/rail-baltica-academy/.
Sessions will be organised in English, Latvian, Lithuanian or Estonian (depending on a particular session) and will be available publicly on the designated Facebook events pages and Rail Baltica Global Project website.
In the previous editions of Rail Baltica Academy, first of which took place in November 2020, over 280 students from 14 educational institutions from the Baltics, Germany, Spain, and the Netherlands, participated. Online sessions that were organised during the Summer 2021 gathered over 3000 viewers from 19 different countries, and the video materials are available on the website: railbaltica.org/rail-baltica-academy/.
With its scope and technical complexity, Rail Baltica is one of the largest high-speed railway projects in Europe and one of the eight European flagship infrastructure projects. As a truly pan-European project, Rail Baltica brings the best of international experience to the Baltics and links it with local experts and practitioners.