AB Viamatika, the company that won the tender announced by LTG Infra, will provide technical supervision services for the construction of the Rail Baltica railway bridge over the Neris River near Jonava. The price proposed by the supplier is EUR 670 145,25 excluding VAT.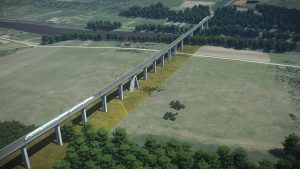 "Today, we already have a company that will carry out the technical supervision of the Neris Bridge. It is expected that the winner of the tender for the construction of the bridge itself will be announced later this year, – says Karolis Sankovski, CEO of LTG Infra, the company responsible for the Rail Baltica project in Lithuania. – One of our main tasks is to mobilise all our forces and to proceed swiftly with the procurement of construction contracts and services as soon as we have the technical designs. The project partners are therefore committed to prioritise concluding design activities for the Rail Baltica main line in Lithuania."
The tender for the technical supervision of the construction of the new bridge over the Neris River was carried out in accordance with the International Federation of Consulting Engineers (FIDIC) tendering procedures, known as the "Red Book". This is the most common model in Lithuania, both in the private and the public sector. One of the advantages of this model is that the Supervising Engineer measures and evaluates all the work performed by the contractor on the project, and the Customer pays only for the work actually performed, thus avoiding overpayments for potential overruns.
According to the tender conditions, the winner will have to organise the supervision of the construction of the structure, control whether the construction conforms to its design and works contract terms, as well as to the requirements of the normative documents pertaining to the safety and purpose of the construction and other legal acts.
The new railway bridge over the Neris River near Jonava will be the longest railway bridge in the Baltic States. The total length of the new bridge will be 1510 metres. The longest span between the piers of the new bridge, where it crosses the river, will be 150 metres.
Until now, the longest bridge in Lithuania has been the Lyduvėnai Railway Bridge over the Dubysa River, which is 599 metres long, and the longest bridge for cars is the bridge over the Nemunas River near Jurbarkas, which is 494 metres long.
Rail Baltica is the largest railway infrastructure project in the history of the Baltic States, which will include the construction of an electrified double-track EU gauge railway line running from Warsaw, through Kaunas and Riga to Tallinn along the entire Rail Baltica route. The total length of the Rail Baltica line in the Baltics is 870 km: 392 km in Lithuania, 265 km in Latvia and 213 km in Estonia.