On 15 December, the contract on the construction design and author supervision of construction projects for the Rail Baltica infrastructure maintenance points located in Skulte and Iecava was signed with the Rail Baltica national implementing body in Latvia – company Eiropas Dzelzceļa līnijas. The winner of the second closed procurement round is consortium consisting of design company SIA BRD projekts (Latvia) and engineering company Sintagma Srl (Italy). The offer submitted by the consortium was recognised as the best offer quality and pricewise.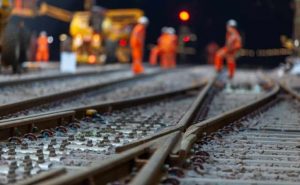 The main function of Skulte and Iecava infrastructure maintenance points will be to ensure the maintenance of Rail Baltica infrastructure – tracks, catenaries, signalling systems. During the construction of Rail Baltica in the section Estonian border – Riga and Riga – Lithuanian border, the maintenance points in Skulte and Iecava will be used as the storage of construction materials and construction equipment and place for the necessary preparation and processing works. Specialized equipment will be based and serviced here, the necessary materials will be stored and the delivery of it will be ensured both by 1435 mm and 1520 mm wide railways.
Contract execution time is twenty calendar months from the date of entry into force of the contract with the possibility to extend the contract execution period. The term of author supervision is until the acceptance of the buildings into operation.
In September 2020, a tender was announced for the construction design and author supervision of construction projects for Rail Baltica infrastructure maintenance points in Skulte and Iecava, and it took place in two stages. During the first stage most, compliant participants were selected therefore in the second stage the evaluation of the submitted offers took place with the award of the procurement contract.
Five candidates from Latvia, Spain, France, Turkey and Italy were nominated for the second round of the competition.
The territory of Skulte infrastructure maintenance point is planned to be approximately 16 hectares and Iecava maintenance point will be established in rural area – approximately 16.5 hectares.
The winning consortium consists of experienced companies in construction design and author supervision. SIA BRD projekts is a company with more than 17 years of experience in road, traffic organization, public transport network and other infrastructure design. Sintagma Srl is an engineering company founded in 1986 in Italy. The company operates in the field of feasibility and environmental impact studies, as well as specializes in transport and urban planning, initial, management and construction planning and design, work supervision and project management.
Sintagma Srl is also participating in construction design and supervision of Rail Baltica station and infrastructure at Riga Airport as partnership of suppliers from three countries PROSIV (Sintagma Srl (Italy), Prodex (Slovakia) and Vektors T (Latvia))