On 15 December, the winners of the future Rail Baltica Ülemiste terminal name competition were announced, which were revealed in a public event.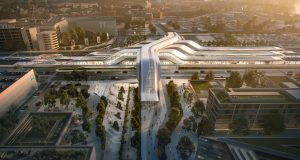 "One very big and important stage in the development of Rail Baltic's Ülemiste passenger terminal has ended today. Tallinn, and indeed Estonia as a whole, will get an exciting and modern landmark in the new terminal building," said Tonu Grunberg, CEO of the Rail Baltica national implementer "Rail Baltic Estonia".
Also, the main design of Rail Baltica passenger terminal in Tallinn has been completed. In 2019, an international architectural design competition was held for the design of the Tallinn passenger terminal of Rail Baltic, which was won by a joint entry by Zaha Hadid Architects and the Estonian counterpart ESPLAN OU.
Designing of the railway infrastructure of the Ülemiste area necessary for the development of Rail Baltic started in 2020, when an agreement was signed with joint tenderers OU Reaalprojekt and OU AllSpark. Environmental surveys are being conducted by OU Hendrikson & Ko.
The procurement for the construction of the terminal and related infrastructure will be announced at the beginning of 2022 and the construction contract is expected to be signed in the autumn of 2022. In the first phase of construction, the existing railway and tram tracks will be relocated.
About the name competition
Linda in Estonian mythology and the national epic Kalevipoeg was the mother of Kalevipoeg and the wife of Kalev. In total, 361 names were submitted to the name competition and more than 2,000 people took part in a popular vote on nine names shortlisted by the City of Tallinn naming committee.
360-degree views and video animation of the Rail Baltica passenger terminal can be found here: https://rbulemiste.ee/360