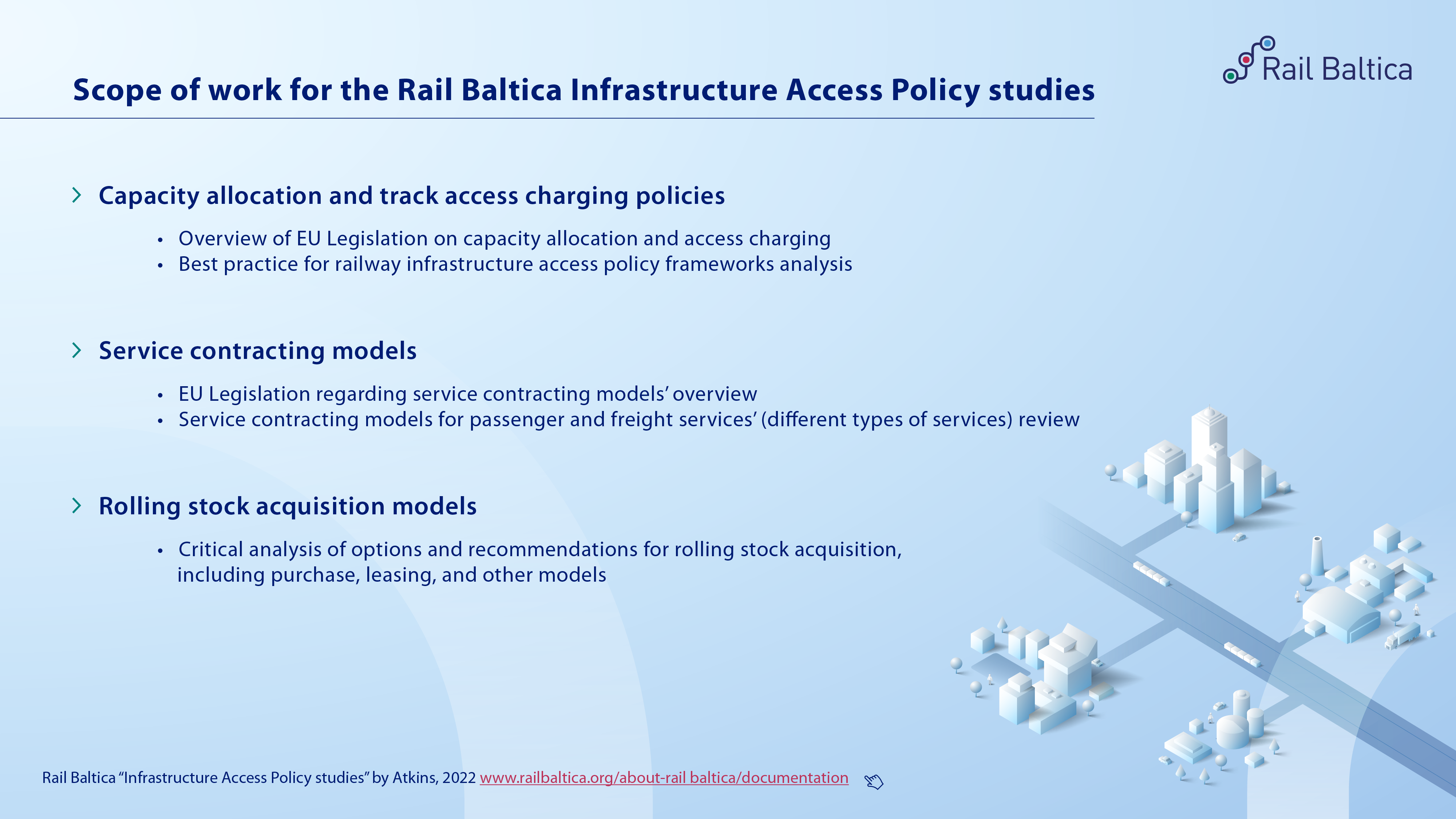 The consulting company Atkins Limited on behalf of the joint venture of Rail Baltica RB Rail AS has completed the Rail Baltica Infrastructure Access Policies Development Study, providing set of recommendations for the key railway infrastructure capacity allocation policies and access charging schemes for Rail Baltica.
International benchmarking analysis in the area of track access charging models and capacity allocation as part of this study was based on the following six EU countries: Italy, Spain, Belgium, Netherlands, Sweden and Germany, providing review of the different service contracting models to ensure the deployment of passenger and freight services for Rail Baltica across the various segments, including during the initial phase of commercial operations, as well as recommendations regarding optimum approaches for Rail Baltica.
In addition, an assessment of options and guidelines for rolling stock acquisition across various contractual types including purchase, leasing, and other models was carried out.
"The study identifies next steps that need to be taken to arrive at optimal solutions regarding the track access charging and capacity allocation policy, service contracting schemes and rolling stock acquisition models, further work is required going forward before all policy issues in these critical areas can be fully tested or agreed," said Kristīne Malnača, Transport Analyst at RB Rail AS.
To ensure incorporation of the outcomes in further development of the Rail Baltica, the relevant national global project stakeholders have been involved in the discussion of the key findings of the study including the expert group developing future RB infrastructure management model.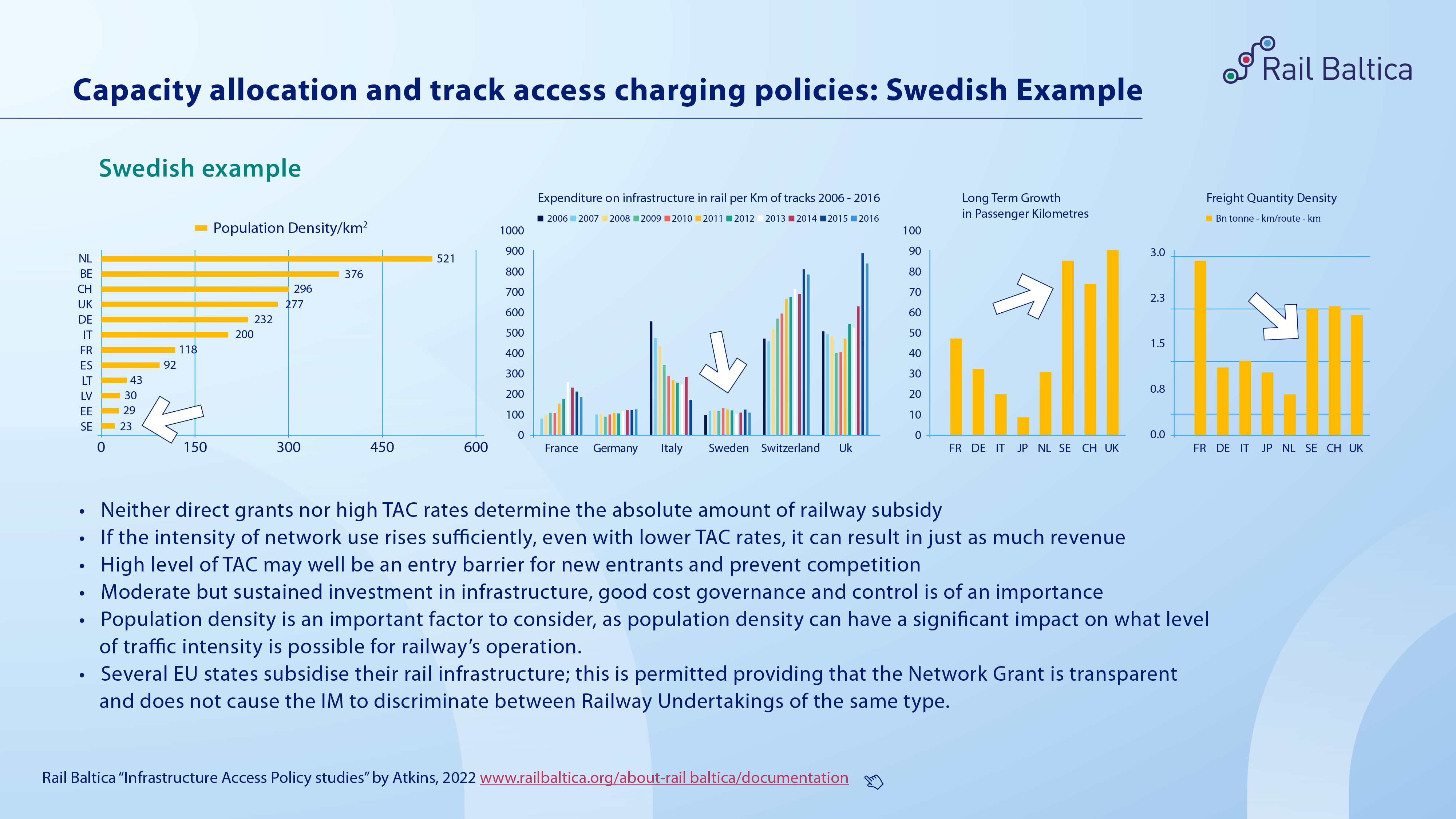 Key recommendations include:
Coordination over TAC rates, capacity allocation and prioritization process over the three Baltic States is essential to attract traffic flows and ensure consistency across borders;
In order to determine the likely passenger service contracting schemes a detailed scenario analysis is required;
Track Access Charges have impact on transportation cost and at the same time play significant role on the infrastructure manager's revenue stream. Comparator model looking at different service contracting schemes can help policy decision makers determining the optimal scheme suitable for each of the service groups and understanding the likely levels of overall subsidy of the railway;
The long timescales required for acquiring rolling stock, and bringing it into service on a new line, mean that it is essential to make policy decisions on passenger service models and rolling stock acquisition schemes in good time.
Following the recommendations RB Rail AS is planning to carry out investigative market consultations with rolling stock manufacturers, rolling stock companies and service operators in September 2022 to ensure gaining further insights from the market on key matters related to rolling stock acquisition and service contracting schemes.
Final report is available in the Rail Baltica Documentation Library:
https://www.railbaltica.org/about-rail baltica/documentation/.
See all slides here.
Atkins is a British multinational engineering, design, planning, architectural design, project management and consulting services company. It is a subsidiary of SNC-Lavalin and is headquartered in London.