Rail Baltic Estonia announced a call for tenders for the design of Muuga multimodal freight terminal. Muuga terminal will be Rail Baltica's largest and only cargo terminal connected to the harbour.
"Muuga freight terminal is one of the most important objects of the project in terms of Rail Baltica freight transport, the development of which will increase the value and competitiveness of both the railway and Muuga Harbour. Muuga Harbour will have a rather unique infrastructure combination that enables to operatively reload goods from sea transport and road transport to railway transport of different widths and vice versa. It also serves as a prerequisite for a smoother flow of freight from road to railway, especially over the medium distance in trade between Central and Southern Europe. I am glad that we have been able to successfully cooperate with both Tallinna Sadama and Eesti Raudtee when developing this project," said Tõnu Grünberg, Chairman of the Supervisory Board of Rail Baltic Estonia. According to him, connecting the most important cargo port in Estonia with the railway will be an ambitious task for any engineering company.
"Rail Baltica train connection brings a completely different dimension to the logistics chain of Estonia and the entire Baltic Sea region. The existing capacity of Muuga Harbour together with the future multimodal terminal provides an opportunity for developing a comprehensive transport hub, which will create a completely new north-south freight corridor, but also opens up opportunities in the direction of East as well as Asia," said Valdo Kalm, Chairman of the Management Board of Tallinna Sadam. "Already today, we see that many large international logistics companies are assessing the opportunities to be created by Rail Baltica in their development scenarios, and by progressing with the project we will also give them a signal to be considered in making their future plans."
"The addition of the Rail Baltica Muuga multimodal freight terminal will bring additional synergies, especially for the transport of freight flows in containers and trailers by railway directly to Western European destinations without costly and time-consuming transhipment at the Lithuanian-Polish border," commented Erik Laidvee, Chairman of the Supervisory Board of Eesti Raudtee.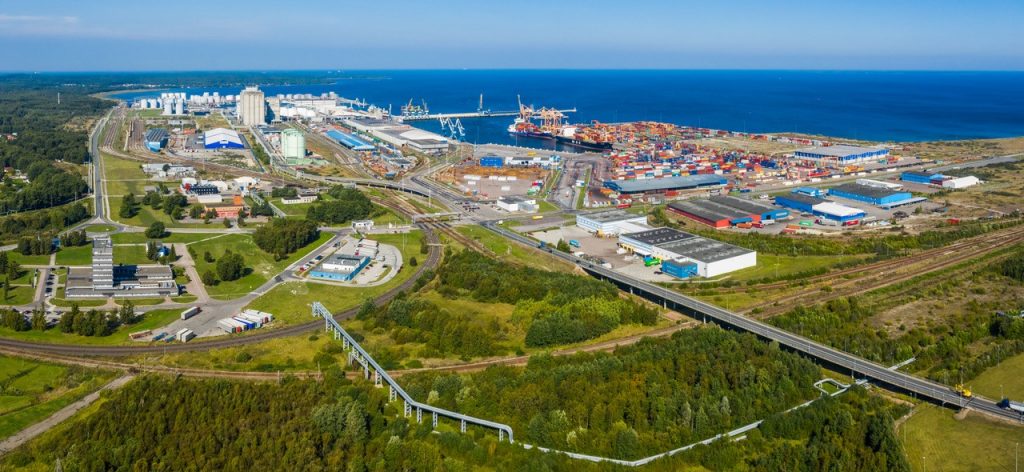 The recent call for tenders to find a designer for the freight terminal and related infrastructure, is already a further stage in the development, which will connect Rail Baltica to Muuga cargo port. Previously, Civitta Eesti AS and Deutsche Bahn Engineering & Consulting have studied the prospects of trade from Muuga. Reaalprojekt OÜ has helped us improve the technical solutions. At the beginning of this year, a prospective operation plan for Muuga Harbor was completed by Ramboll Deutschland, which, among other things, analyzed various alternatives for the construction of a multimodal cargo terminal and infrastructure at Muuga Harbor. The proposed solution focuses on the creation of a comprehensive port infrastructure, and maximization of synergies, linking Rail Baltica's infrastructure with the existing port infrastructure, by using the resources and potential of the operators/cargo terminals operating in Muuga.
Muuga cargo port will go through major changes due to Rail Baltica
Compared to the current situation, the project provides an additional 14 Rail Baltica station roads between the sea and the existing 1520mm station roads. In addition, a connection will be created to the west of the port, which will allow companies in the region to transport their goods along Rail Baltica railway.

Relocation of the existing 1520mm wide railway is also planned in part to integrate them with the future Rail Baltica railway. Today, there are about thirty terminal operators in Muuga Harbor, who are more or less affected by the proposed solutions.
The designer of the Muuga freight terminal will be responsible for, among other things, the design of the freight station, terminal connections and infrastructure directly related to them (railway tunnel, catenary, traffic control systems as well as control center and rolling stock maintenance depot), which provides flexibility to carry out maintenance work on freight rolling stock at the station. At the same time, the designer must find a solution for nearby objects, such as the Maardu road junction that Rail Baltica passes, and design a 1+1 solution instead of Põhjaranna road viaduct that will be demolished, assuming that it can be expanded with 2+1 or 2+2 lanes in the future.
It is estimated that 4-5 million tons of goods will pass through the Muuga multimodal freight terminal in the years following the completion of Rail Baltica. The analysis completed by Civitta Eesti AS and Deutsche Bahn Engineering & Consulting GmbH in 2018 shows that in 20 years these volumes may even double and 8-10 million tons of goods will be handled in Estonia's most important cargo port every year.