10 March 2021, Rīga – the joint venture of Rail Baltica RB Rail AS has signed two-year contracts with two companies, Linum Consult Ltd in partnership with Brunel Energy Europe BV and EWI Recruitment, to provide temporary professional staff for the project. The goal of this contract is to engage professional staff on a temporary basis for various engineering, project management, health, safety quality, and environmental positions. The contract value is EUR 5.5 million, which is calculated based on the planned workload for the next two years in Latvia, Lithuania, and Estonia, and includes both the supplier's and specialists' salaries and related costs.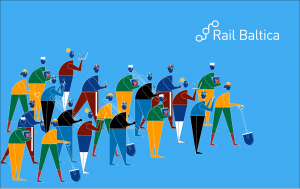 Mark Loader, RB Rail AS Chief Program Officer says: "The need for short-term specialists is a common practice in large infrastructure projects in situations where specific one-off tasks are planned or a rapid increase in workload over a fixed period is expected. Also the selection of permanent staff for high-speed rail specialists in the Baltic States and elsewhere in Europe can take more than six months, which is why in such situations temporary specialists are involved to ensure continuous project progress and meet the deadlines."
Linum Consult has successfully worked with RB Rail AS for the last 3 years, initially providing recruitment EU services for the project. With experience in over 12 rail, metro, and high-speed rail projects, the company's expertise is highly relevant for Rail Baltica to attract staff from the international rail market. For the successful delivery of the temporary professional staff for Rail Baltica, the company has partnered with a global recruitment and workforce service provider, Brunel.
Francis Ryan, Co-founder, and Director of Linum Consult: "Working in a partnership with a Brunel, to provide technical contract solutions for RB Rail AS, is a continuation of Linum Consult's founding philosophy of – our network is your network."
"We are pleased with the Rail Baltica Project award together with Linum Consult. It matches our strengths of delivering tailored solutions to complex requirements, often involving several stakeholders in different locations", says Jeroen van Drunen, Regional Director for Europe & Africa at Brunel.
EWI Recruitment is one of the market leaders in International Rail recruitment, bringing its expertise gained on similar infrastructure projects around the world. As a business, EWI has operated internationally since its launch in 2012.
Mathew West, CEO of EWI Recruitment: "We are very excited by the opportunity to partner with the prestigious Rail Baltica project. EWI was established with a view to lead major new developments in the infrastructure market so we are a perfect fit to lead recruitment activity on this new project."