Rail Baltica is a railway infrastructure megaproject that spans across three countries. The depth of skills and expertise required to successfully execute a greenfield project of this caliber is extensive and would not be possible without our diverse team of professionals.
In our new series "Rail Baltica: The People Behind the Vision", we will introduce you to some of our team members. These individuals are the driving force advancing the Rail Baltica project with their professionalism, dedication, and passion for this project.
María Ángeles de la Sierra Aparicio, the Deputy Head of the System Engineering and Assurance Department
María leads the System Engineering Team and is responsible for defining, coordinating with stakeholders, and implementing System Engineering Processes for the Rail Baltica Global Project. These processes establish a cohesive methodology and framework that facilitate effective collaboration among stakeholders. With various stakeholders involved, from the Baltic countries, other nations, and various subsystems (Infrastructure, Energy, CCS, Rolling Stock, Operation, and Maintenance), the System Engineering Processes establish harmonized frameworks, activities, roles and responsibilities towards meeting the strict safety requirements set by the European Union. Safety is of paramount importance in railway projects – railways are not just about moving trains from one place to another, they are about doing it in a SAFE way.
Fun fact: María comes from Zaragoza (Saragosse) in Spain, that happens to be the city where the "Memorandum of Understanding on the TEN-T priority project Rail Baltica" was signed back in June 2010. It is an EU member states' agreement regarding the Rail Baltica project's integration into the Trans-European Transport Network (TEN-T). The TEN-T is a European network of roads, railways, airports, and other transportation infrastructure that aims to improve connectivity and transportation efficiency across the European Union member states and neighboring countries.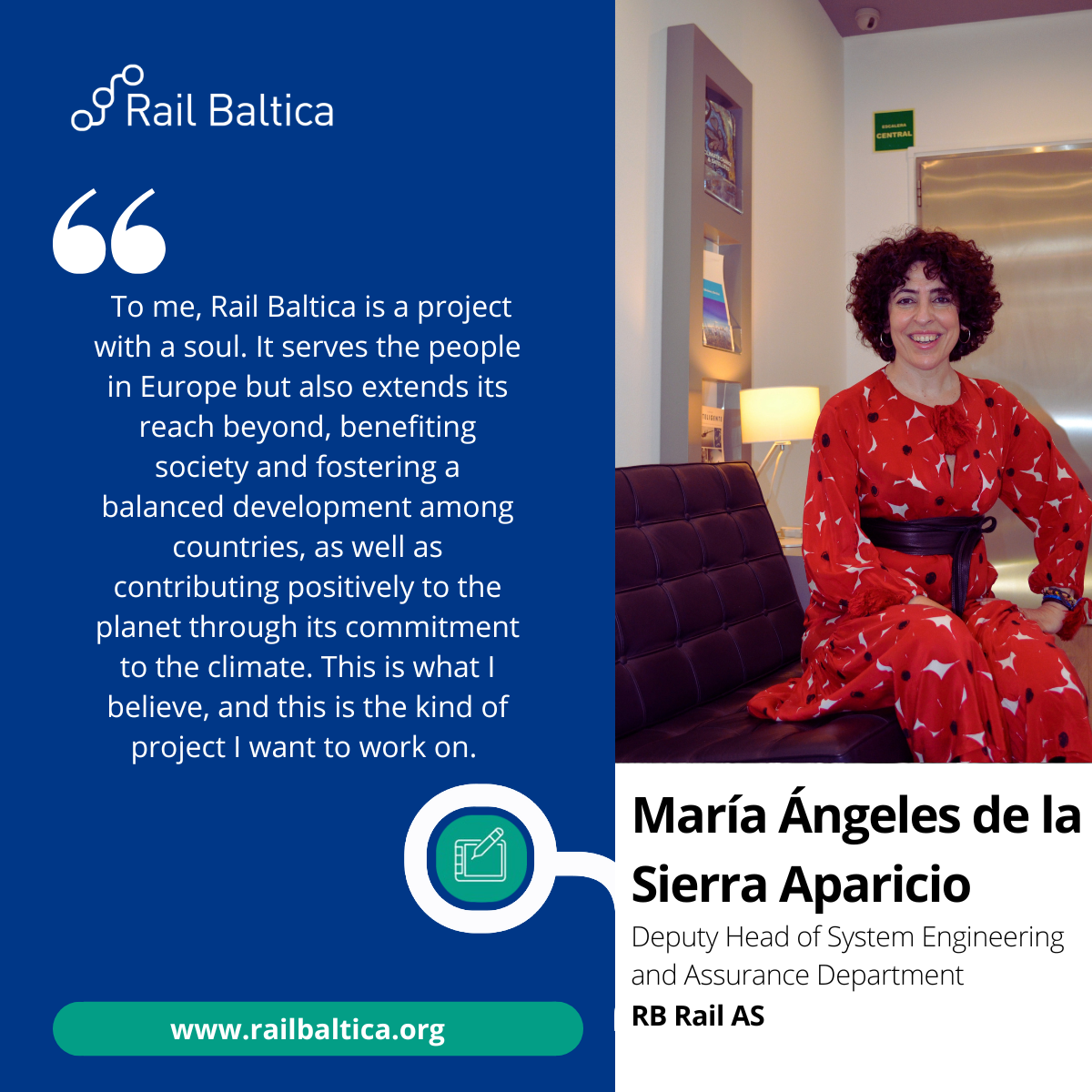 When did you join the Rail Baltica project and what inspired you to become a part of the team?
It has been a bit more than one year now since I joined this project, and I did so because it is simply and truly unique. I am passionate about railways and deeply believe in the ideal of Europe and its construction. I have been following the TEN-T Corridors project since its inception, as it unites these two passions. I left my former company, where I had been working for 23 years, and my house and people in Spain to move to the Baltics. In other words, 'I took a leap into the void without a safety net,' and I have no regrets.
What does the Rail Baltica project mean to you?
To me, it is 'a project with a soul.' It serves the people in Europe but also extends its reach beyond, benefiting society and fostering a balanced development among countries, as well as contributing positively to the planet through its commitment to the climate. This is what I believe, and this is the kind of project I want to work on. Personally, railways are in my DNA, as my family has had a longstanding tradition in the railway industry for several generations. My great-grandparents were switchmen who worked for RENFE (the former Spanish Infrastructure Manager) during the time of the First World War. My grandfather's dream was for me to become a Railways Engineer for RENFE, but unfortunately, he passed away before I began my career in ETCS/Railways. Nevertheless, I believe that somehow he played a part in bringing me to this point.
What hobbies, interests, talents do you have?
I have a huge capacity to enjoy! I find many things interesting, especially those that stimulate my mind and conscience. I love music, dancing, reading, sports, cinema, theatre, arts, nature, history, architecture, traveling, cooking, eating, beer and wine, a good conversation, silence. I also have the talent to do nothing without feeling guilty about it. During the pandemic, I pursued a master's in Cooperation towards Development. One of my dreams for the future is to have more time to work as a volunteer in Cooperation. On a separate note, I would like to highlight the remarkable aspects I found in RB Rail AS when I arrived. Firstly, this is a company that genuinely cares about its CULTURE, actively fostering it, rather than just using it as a nice and trendy word. Moreover, I discovered a company that values openness and freedom, allowing employees at all levels to speak up and address concerns. Equally important, I noticed a refreshing sense of humor throughout the organization, something I rarely encountered in higher levels of other companies before. This is a treasure we must keep.