OBERMEYER Planen + Beraten GmbH (Germany) and PROINTEC S.A. (Spain) consortium is responsible for the engineering design and oversight of the construction of a new line from Pärnu to the Estonian-Latvian border. David Pinilla Sanz, the Project Manager of the consortium in Estonia tells about the company's investment in the development of the Rail Baltica project.
What are your main responsibilities in the Rail Baltica project?
I am responsible for the management and coordination of the different teams involved in the project, including the design teams from local companies.
How many people from both companies are involved in this project?
Prointec has involved a multidisciplinary team shaped by a highly skilled technicians and engineers from different countries like Estonia, Latvia, Spain, Greece, and Germany. The team consists of structural engineers, environmental experts, railway alignment engineers, architects, geologists and geotechnical experts, hydraulic and drainage engineers, BIM managers and BIM modelers.
The size of our teams varies depending on the needs of the project, but we can say that in Spain we employ between 20 and 30 specialists, and roughly the same number of people is involved and working for the project in our partner's – Obermeyer's – offices. Regarding the local staff and partners, we estimate that the number of people involved in the project could add up to 80 or more, in some occasions.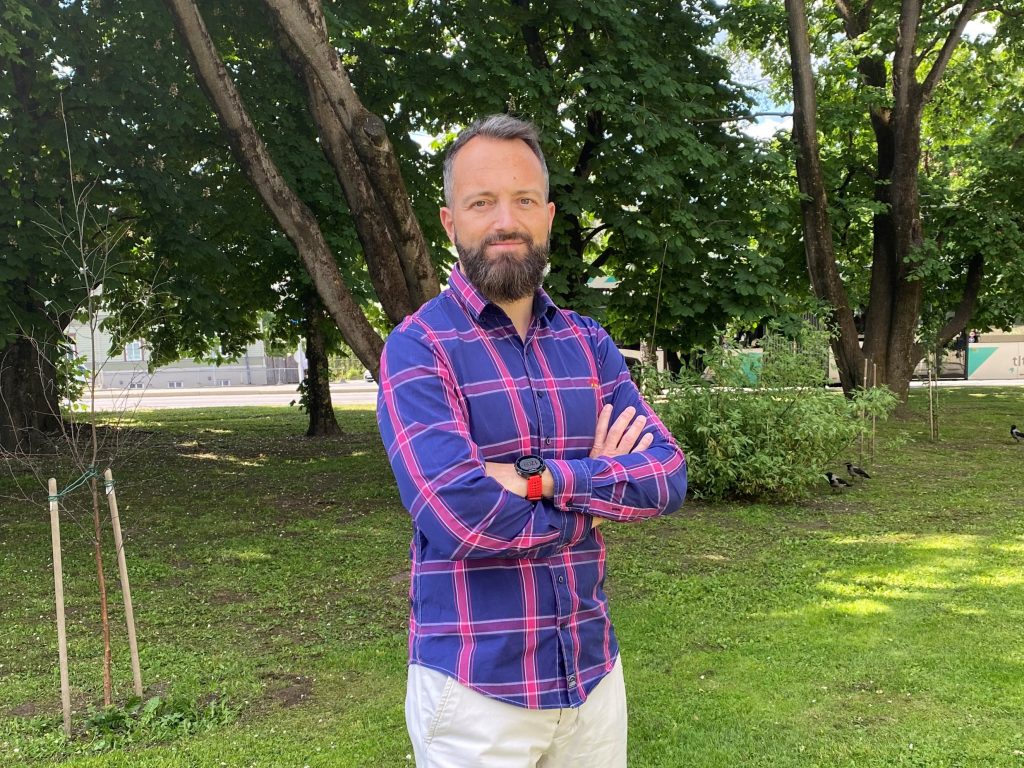 The section from Pärnu to the Latvian border covers several special areas in Estonia, for example Natura 2000 network, protected areas, and others. How much does this affect the design works?
Estonia is a very rich country in fauna and nature, and the respect, protection and integration of the environment is a significant part of our design work. It is not just a matter of landscape, but the use of less pollutant technologies for CO2 emission reduction, avoidance of nuisances to population, human settlements and different ecosystems, the permeability of infrastructure for citizens and fauna, restoration of different areas. We implement these solutions into our design, from its first stages. It is a big array involving different disciplines working together for better integration of this new element in the environment. Of course, the most outstanding environmental features (Natura 2000 network, protected areas, wetland, etc.) deserve a specific treatment, and so are treated, but for designers it´s just a part of the whole previously mentioned system.
We are committed to protecting environment, according to the Estonian and EU regulations. Based on Environmental Impact Assessment and other relevant environmental studies, we define sustainable solutions for the environment, defining proper mitigation and compensation measures for the remaining possible impacts.
We also take into consideration local demands, and I can confirm that Natura2000 areas and other protected areas have been studied carefully both during the alignment phase and all the design project stages.
What have been the challenges in the Pärnu section? 
In this section we have some items which will imply significant challenges from an engineering and technical perspective, like the Pärnu river bridge, which will be a relevant structure and a visible landmark for the city of Pärnu and their visitors. Also, the Rääma bog area, which special ground conditions will lead us to design a specific ad-hoc solution for this section, and the tracks layout in the Pärnu international passenger station and the Pärnu freight station, where the alignment has had to be improved and optimized to solve local constraints of environment, reaching the commitment between speed and comfort. From the environmental point of view, we have assessed protected habitats and Natura2000 areas near our alignment which are relevant to our design and have been taken into consideration in the different stages of the project design. 
As the project will not end at the border, how do you manage the border section?
We are closely cooperating with our neighboring partners of the different sections, and with the project managers from different companies who are involved in the design, we have agreed on the common point to connect. It is a common approach to such kinds of projects. The connecting point is cross-checked by all parties to ensure feasibility from all perspectives, especially from the technical point of view.
Compared to other projects, what makes this project different?
In my opinion, the idea of being part of this megaproject connecting Baltic countries with Poland and Finland, and to have a possibility to contribute to the improvement of the communication between these countries, adding our values and experience is simply an exceptional source of motivation.
There are some aspects that make this section an extraordinary engineering challenge. First, the total length of this section is 94 km, which is comparatively long if we l look at other high-speed railway projects. Another interesting angle is that we have also been using BIM methodology since the very early stages, which is another hallmark of this project.
Secondly, there are three different stages of the design in this project that must be accomplished according to the time schedule; every stage of design has its own objectives in terms of design, and its own level of detail, and covers a wide range of studies for a single subsection.
Finally, the particular conditions of the country where we are developing the project can be of a challenge – the weather conditions, a request to always have a "plan B" for the site investigations (and sometimes even a "plan C"), size of a country in terms of its population – all of these can be factors that affect implementation of the task.
How would you describe your experience working with local partners in the Baltics? Where and how do you find local talent? 
We have recruited a wide range of professionals – technologically advanced and committed to the project. Our local staff, shaped by engineers, technicians, and assistants, are doing an excellent job. In the beginning, we were said that Estonians may have cultural differences, however when you get to know them, you realize that it is more a stereotype than a reality. Coming from Spain, one may think that the differences between professionals are going to be bigger, but the truth is that we are not so different at the end – in the "engineering world" we are used to face the same challenges and, while we do have some differences, they are not as big as one could imagine.
What have been the biggest successes in this project?
Even though we have been working on this project for more than a year and our team has covered the first stages of design in 2 subsections out of 3 (the section is divided into three subsections), it is still soon to talk about successes.
This project raises constant challenges daily and our teams must find the right balance to design solutions that comply with our standards in terms of technical design considering environment constraints, and also managing and having under control the possible risks. Therefore, we sometimes have to develop specific solutions to unblock relevant milestones, like for example the site investigations and the design of the future embankment in Rääma bog which was successfully completed after the study of several methodologies, or the geotechnical investigations in Pärnu river which were undertaken from the existing old railway bridge close to our future bridge (the idea of ​​one our geologists).
In terms of design, to achieve the deadlines agreed in the time schedule and reaching the adequate level of quality in permanent coordination with the client is mostly near to success, but we still have a long way to go.
Another positive fact to remark on is the shaping of a huge team of different nationalities who are committed to the project and the coordination between all the parties, starting with our partners in Obermeyer and continuing with our local partners, whom I would like to mention: Skepast&Puhkim OÜ, ELLE OÜ, Reaalprojekt OÜ and Roadplan OÜ. I would like to have a special mention for our client RB Rail and its management board which is supporting us and doing very diligent and practical management of the project.
What advice can you give to other companies that are planning to join the project and participate in tenders?
First, I think that the local factor is a must when considering this cooperation since this will mean a significant improvement in their design work and the time schedule. Second, a good preliminary study of the ground conditions and local environment. Third, if the winter is present… a good winter coat!