March 25, 2021, Riga – RB Rail AS on March 30 at 14:00 EEST will host a live webinar "RB Rail AS procurement plan for 2021", where the Rail Baltica global project team will inform about the key tenders, including of the implementing bodies, and their timeline for 2021. The main goal of the event is to provide more detailed information about the procurement process, evaluation criteria, and main requirements that will help potential suppliers to succeed in future tenders.
During the webinar, presentations will be given by the representatives of the Rail Baltica joint venture RB Rail AS: Agnis Driksna, CEO and Chairperson of the Management Board; Kristjan Piirsalu, Chief Procurement Officer and Aiga Benfelde, Procurement Manager.
Kristjan Piirsalu, Chief Procurement Officer highlights: "This year we will continue preparations for the major construction works in the Rail Baltica project, which started last year in all Baltic countries, noting that some construction activities are already ongoing. Therefore, we will focus on three main directions. Firstly, we are proceeding with the consolidated procurement of railway materials and components, such as rails, sleepers, ballast, turnouts, cableway elements, precast concrete elements, fencing and noise barriers. Secondly, we are planning to move ahead with the design procurement of detailed technical design of the remaining two mainline sections of Rail Baltica in Lithuania (Kaunas – Lithuanian/Polish border and Kaunas – Vilnius) and finally, we are planning to announce tenders for the energy subsystem design and build as well as prepare for the implementation of the control-command and signalling (CCS) subsystems for which the procurement start is anticipated in early 2022".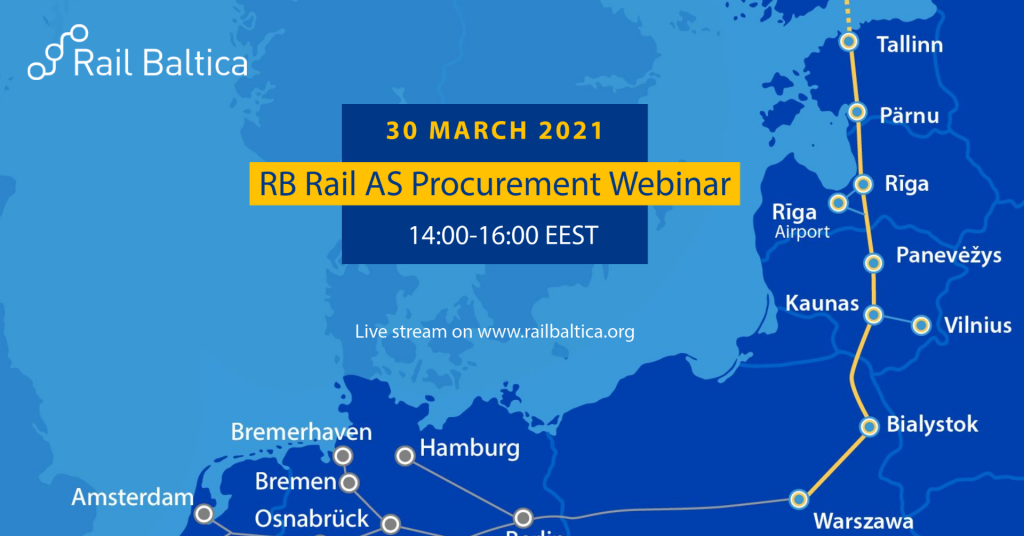 Webinar Agenda
14:00 What to expect from Rail Baltica in 2021.
Agnis Driksna, CEO, RB Rail AS
14:10 Doing business with Rail Baltica: Procurement Plan for 2021, key tenders, and timeline.
Kristjan Piirsalu, Chief Procurement Officer, RB Rail AS
14:30 – 15:00 Q&A
15:00 How to succeed in RB Rail AS procurement – a guide to the process, requirements, and evaluation.
Aiga Benfelde, Procurement Manager, RB Rail AS
15:30-16:00 Q&A
Technical information
Timing 30 March, 14:00 EEST – 16:00 EEST;
Live streaming on railbaltica.org; registration is not required;
The working language of the event is English;
Contacts of the organizers: Edīte Pūce (e-mail: edite.puce@vilands.lv).