On May 22nd, kicking off the spring session, Rail Baltica Academy hosted a digital lecture featuring Dovilė Juškevičienė, an Environmental Expert at Rail Baltica global project. With a primary focus on the Rail Baltica project, Juškevičienė illuminated the important role that megaprojects play in addressing climate change. Throughout the lecture, the urgency of climate action, the significance of achieving climate neutrality, and the concept of climate proofing in infrastructure development took center stage. Let's delve into the key insights shared during the lecture.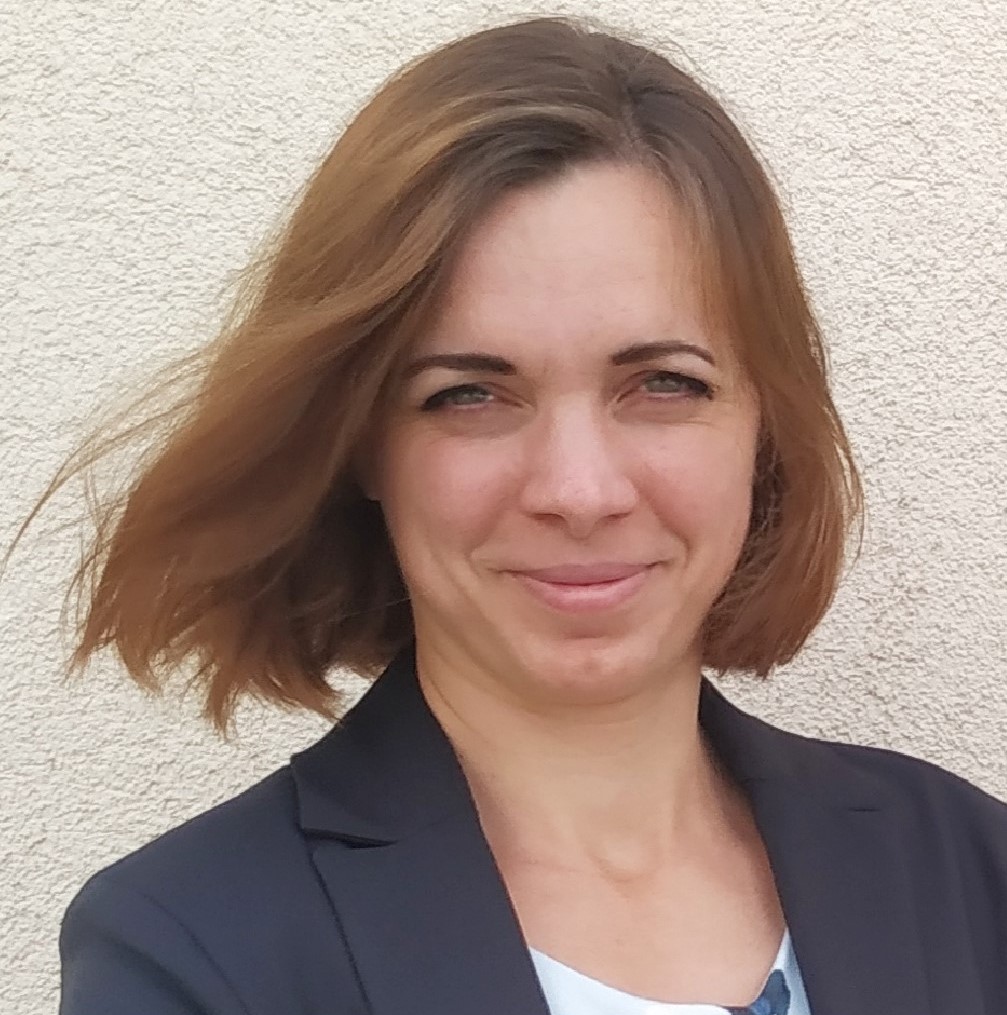 The State of Climate Change Impact and Why Climate Neutrality Matters
Greenhouse gas concentrations in the atmosphere continue to rise, record high temperatures and ocean heat have been observed, and the current mitigation pledges are inadequate to achieve the goals set in the Paris Agreement. Billions of people are exposed to the impacts of climate change, therefore making adaptation is crucial in reducing risks associated with these changes.
The European Green Deal aims to transform Europe into a climate-neutral continent by 2050. Shifting towards sustainable transportation options plays a vital role in achieving this objective. By prioritizing users and providing them with affordable, accessible, healthier, and cleaner alternatives, the Green Deal seeks to significantly increase the adoption of clean vehicles and alternative fuels while eliminating fossil gas by 2050. Rail transport has already made progress in reducing emissions while simultaneously increasing passenger and freight capacity.
Understanding Climate Proofing and progress in the Baltic States
"Climate proofing involves integrating climate change mitigation and adaptation measures into the development of infrastructure projects. It helps investors make informed decisions regarding projects that are climate resilient and aligned with climate change goals. Key objectives include a 55% reduction in carbon emissions by 2030 and carbon neutrality by 2050. By mainstreaming climate considerations, both institutional and private European investors can align their investments with the Paris Agreement and EU climate objectives," emphasized Juškevičienė.
During the lecture, challenges faced by the Baltic States regarding climate change management were also highlighted. "Currently, there is no specific national legislation in place for climate impact assessment or climate proofing activities. However, strategical documents and action plans have been adopted. The absence of methodologies for climate proofing assessments, which should be included in Environmental Impact Assessments (EIA), poses a significant hurdle," said Dovilė Juškevičienė.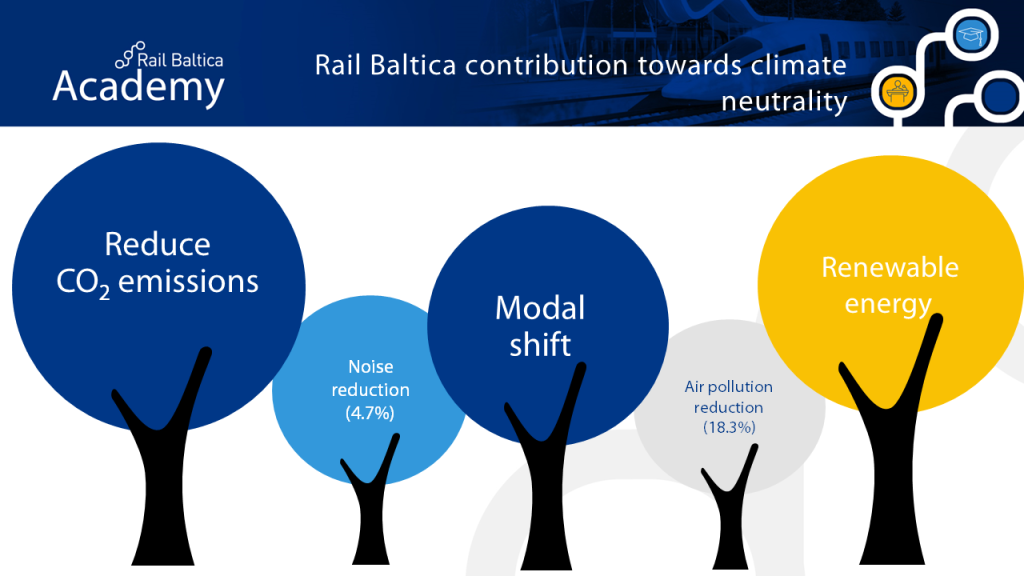 She also emphasized that Rail Baltica as a transformative railway project connecting the Baltic States by European gauge railway, is set to make a significant contribution to climate change mitigation in the region. By reducing CO2 emissions, mitigating noise pollution, promoting modal shift, and incorporating renewable energy sources, Rail Baltica aims to create a sustainable and environmentally friendly transport solution. The entire 870 km greenfield railway infrastructure will be electrified, using 2x25kV AC power supply, resulting in a substantial reduction in greenhouse gas emissions. Additionally, the project's focus on modal shift from road and air transport to rail will further decrease carbon emissions. Rail Baltica exemplifies the potential of large-scale infrastructure projects to contribute to climate change mitigation and foster a more environmentally conscious future through its dedication to renewable energy and sustainable practices.
Mitigating the impact of climate change on infrastructure is of utmost importance for several reasons. Infrastructure, such as the Rail Baltica project, is designed to be resilient and adaptable to key climatic hazards. By addressing factors like flooding, heavy rain, wind, storms, ground instability, landslides, lightning, low and high temperatures, snow, freezing rain, glazed frost, frost penetration of soil, fog, and draught, the design phase of Rail Baltica demonstrates a proactive approach towards climate adaptation. By incorporating measures to withstand these climatic challenges, the infrastructure becomes more durable, reliable, and less susceptible to damage or disruptions caused by extreme weather events.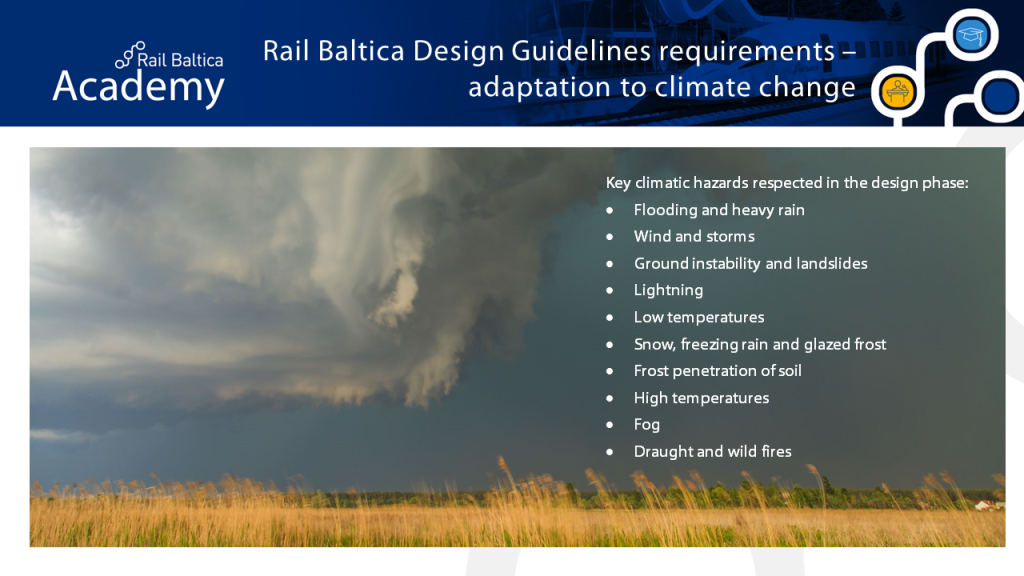 By mitigating the climate change impact on infrastructure, we ensure its long-term functionality, safety, and sustainability, enabling uninterrupted services and safeguarding investments for the benefit of future generations.
EU Mega Project Success Stories: Sharing Experiences and Inspiring Climate Action
Dovilė also briefly discussed success stories of other EU mega projects, including HS2, Austria Railway, QBB, Network Rail, and Britain Railway Infrastructure, showcasing the immense potential of such projects in contributing to climate action.
If you missed the lecture and want to delve deeper into these topics, including on how Rail Baltica and other EU infrastructure megaprojects e.g., HS2, Austria Railway, QBB, Network Rail, and Britain Railway Infrastructure, are contributing climate action, watch the recording of the lecture on Rail Baltica YouTube channel.