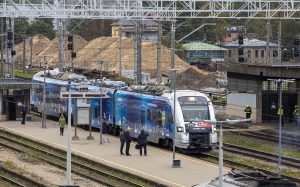 On 21st of September, a special Baltic States express train started its journey from Tallinn to Vilnius to celebrate the European Year of Rail in 2021. For the first time together aboard this train, are the ministers of transport of all three Baltic States, along with the representatives from the Baltic States rail and the European Commission (EC) and the Rail Baltica global project coordinator and national implementing bodies.
The purpose of the Connecting Europe Express Baltic States express train was to demonstrate the willingness of the Baltic States to integrate into the European railway network and emphasize the strength of connecting east-west and north-south, different gauge railway corridors. These events also marked the strong will of all stakeholders from the Baltic States to cooperate in building high-speed railway Rail Baltic, that will change not only the capitals but also regions, which this line will run through.
During the series of events several discussion panels on the train took place focusing on topics like the positive role of railways in achieving climate, business and regional development goal, best-practice and identify the success factors allowing to use the full potential of the station development from mobility, wider accessibility, and economic development perspective, and finally – freight transport opportunities in the Baltic States – Rail Baltica and the North Sea Corridor.
On the 22nd of September, the Baltic States train continued its journey from Vilnius to Kaunas to have a symbolic meeting with the trans-European train, Connecting Europe Express, coming from Lisbon. By 7 October it is to run through more than 70 cities and 26 countries by completing a journey of 20 thousand kilometres. This is one of the EC 2021 European Year of Rail initiatives.