The shareholders of RB Rail AS – Rail Baltic Estonia OU, Eiropas dzelzceļa līnijas SIA and Rail Baltica statyba UAB – have approved a new Supervisory Board with the following members: Riia Sillave, CEO of Rail Baltic Estonia OU, Edvīns Bērziņš, Chairman of the Board of Latvijas dzelzceļš VAS, Anti Moppel, Member of Supervisory Board of Rail Baltic Estonia OU, Karolis Sankovski, CEO of Rail Baltica Statyba UAB, Vineta Rudzīte, Deputy Legal Director on administrative issues and Head of Secretariat of Presidents' Council of Latvijas dzelzceļš VAS, and Romas Švedas, Chairman of the Implementation Committee of UN Espoo Convention.
The Lithuanian shareholder had decided to recall one of its representatives Arenijus Jackus and instead to appoint Romas Švedas at the Supervisory Board of RB RAIL AS. In such instance the whole Supervisory Board had to be recalled and a new one to be appointed.
The Supervisory Board is comprised of six members – two members nominated by each shareholder. The Board members are elected for the period of three years.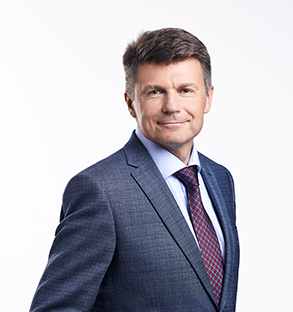 Romas Švedas background
Romas Švedas is a lawyer and has an extensive experience in international economic relations and development of international energy and transport infrastructure projects, corporate governance and work of international organizations, like the EU and UN.
R. Švedas has been a civil servant for 20 years and from 2011 an Independent Expert and Lecturer at Institute of International Relations and Political Science of Vilnius University. He is the former Vice-minister of Energy of the Republic of Lithuania, Director of Economic Security Policy Department and Director of Economic Relations Department at the Ministry of Foreign Affairs; former Deputy Permanent Representative (Coreper I) of Lithuania in European Union in Brussels and Counsellor at Lithuanian Permanent Mission to the United Nations Office and other International Organizations in Geneva. Romas Švedas was a member and the Chairman of the Boards of Klaipėdos nafta AB, Litgrid AB, Lietuvos dujos AB, Ignalinos atominė elektrinė VĮ. From 2016 Romas Švedas is the Chairman of the Board at Lietuvos Geležinkeliai AB (independent board member), from 2014 a member and since 2017 the Chairman of the Implementation Committee of UN Espoo Convention.
During posting in Brussels he worked closely with the EU coordinator taking part in the early stages of the Rail Baltica project. Being Vice-Minister of Energy he was in charge of development of power interconnections Lithuania-Sweden (NordBalt) and Lithuania-Poland (LitPolLink), LNG terminal (Independence), shut down and decommissioning of Ignalina Nuclear Power Plant and development of new nuclear power plant in Lithuania, liberalization of power and gas markets in Lithuania while transferring the EU 3rd energy package into Lithuanian legislation.
Romas Švedas is graduate of the Professional Board Member (2010) and Chair (2017) education programmes at the Baltic Institute of the Corporate Governance (BICG).