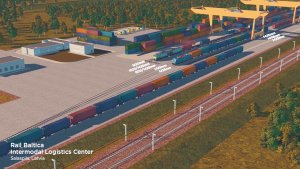 Rail Baltica project implementer in Latvia Eiropas Dzelzceļa Līnijas has announced a closed competition for the design and author's supervision of the inter-modal cargo terminal Salaspils TEN-T.
The competition will take place in two stages. In the first phase, the selection of candidates will take place, but in the second the submission and evaluation of candidates' tenders will be carried out, followed by the conclusion of procurement contracts.
The competition calls for experienced designers: the candidate must have professional experience, that is connected to design of an intermodal freight transfer terminal over the last seven years, including 1435 mm railway tracks with the possibility to serve several freight trains at the same time; the design of a container storage area; the design of a 1520 mm railway freight station with a defined number of shipping tracks; projecting railway tracks intended for the provision of road transport, as well as motor-road design.
In order for this project to run more smoothly and the potential winner of the competition to be able to get to work immediately, the construction plan documentation is currently being prepared by an association consisting of Egis Rail, DB Engineering & Consulting and Olimps Rigas, according to Eiropas Dzelzceļa līnijas.
Time limit for the submission of tenders for the first stage of the competition: 20 November 2020. Duration of the contract – 27 calendar months from the date of entry into force of the contract. Term of authorship – until the commissioning of the construction. The procurement contract is co-financed by the Connecting Europe Facility (CEF).
The documentation of competition can be found in Electronic Procurement System.
Salaspils TEN-T terminal that is linked with the 1520 mm rail and Rail Baltica core line – the European standard track gauge of 1435 mm – will provide the acceptance, transmission and logistics of freight.