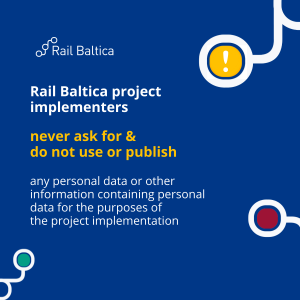 Considering the increasing risks associated with security of personal data and information on the Internet, we encourage to pay particular attention to data and information security issues.
We remind you that RB Rail AS is the Rail Baltica joint venture and Rail Baltica Global Project coordinator established by the three Baltic states. The national project implementers are OU "Rail Baltic Estonia" in Estonia, SIA "EIROPAS DZELZCEĻA LĪNIJAS" in Latvia and UAB "Rail Baltica statyba" in Lithuania.
Rail Baltica project is financed by the European Union, which provides up to 85% co-financing from the Connecting Europe Facility, and the national budgets of the Baltic States. The beneficiaries of the EU financing are RB Rail AS, the Ministry of Economic Affairs and Communications in Estonia, the Ministry of Transport in Latvia and the Ministry of Transport and Communications in Lithuania.
With this in mind, we would like to remind you that the Rail Baltica project implementers, outside of legal obligations, never ask for and do not use or publish any personal data or other information containing personal data for the purposes of the project implementation!
Also, the implementers of the Rail Baltica global project do not request, outside the legal obligations and formal project financing procedures, any financial participation of private or legal persons for the implementation of the project (for example, investment platforms, donations, etc.).
We remind you that all official information about the Rail Baltica global project is available on the official project website www.railbaltica.org, as well as webpages of national implementors:
In case of suspicious cases related to the personal data and information security, questions, or uncertainties, please contact info@railbaltica.org.