Dear audience, distinguished guests,
We, the three Baltic nations, are choir singers. The song celebration tradition of Estonia, Latvia and Lithuania has even been included to the UNESCO cultural heritage list. So am I a choir singer and used to live in Germany, in Munich. Because maybe you did not know, but one of the first things that probably most Estonian communities around the world do, is organize a choir. The practice place was in Bonn. So I was traveling these 600 km back and forth naturally by train. And even though the highways of Germany are fine to drive, commuting by train is a viable alternative, especially when covering longer distances. And I tell you – it's a quality time – plenty of leg room, sitting on a comfy seat, lovely landscapes passing by the window, service offering refreshments and of course enough productive time to learn the lyrics. All the things that a 6-hour drive on the autobahn would not have allowed me to do.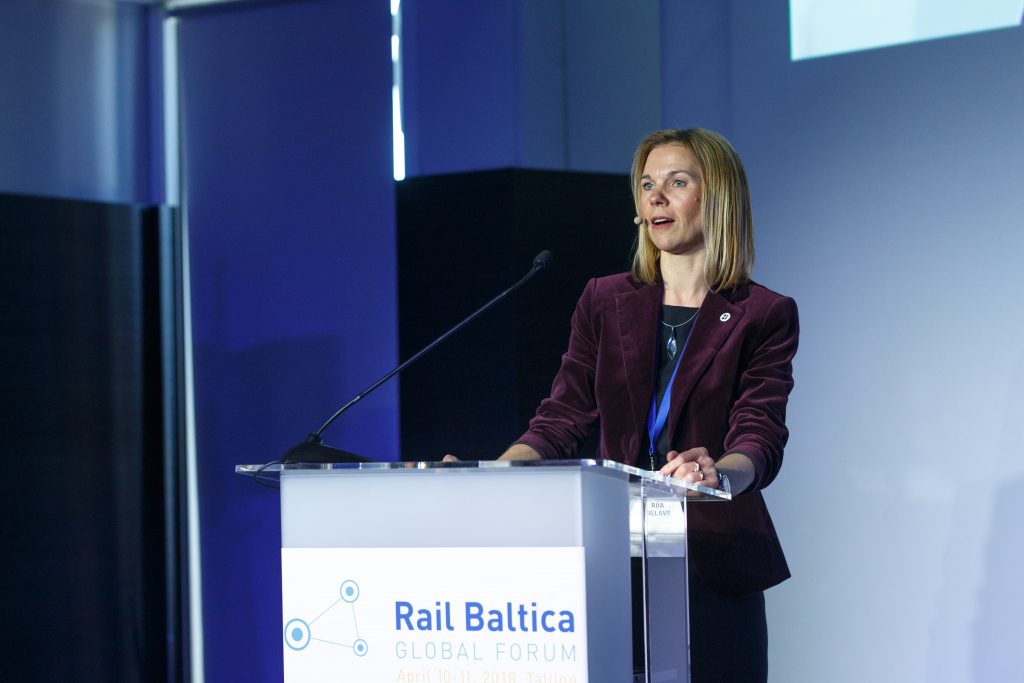 To give you the context – the distance between Munich and Bonn is the same as between Tallinn and Kaunas. Currently taking more than 7 hours by car will take just 4 hours after Rail Baltica is completed. It means we are going to live in a very different time space situation where Riga is as close as Pärnu is now and Vilnius as close as Riga. Time is the ultimate currency, especially these days when it seems to be less and less of it. There are a very few of us who are privileged to have the freedom of dictating their own pace…. (and even them run out of time eventually.)
I'm delighted to welcome you all here in Tallinn, Estonia. I am glad to see the increasing interest in Rail Baltica – by far the vastest project three Baltic countries have ever endeavored. Today we are going to hear through different presentations and discussions how Rail Baltica Project has been doing and what are the plans for its future – the future hopefully a lot of you are going to be a big part of. And let me be clear – the key to completion of Rail Baltica and its success is largely in your hands, it lies in constructive co-operation with all parties motivated to implement their best knowledge and practice. It is truly the sum of our joint effort to build something that could last for generations, something that we could all be proud to give to our people.
Although today we are going to hear a lot about technology and procurements, about design specifics – the railway is not only about steel and concrete, it is not just about rolling stock and tracks – these, although important, are merely means to an end. Railway is all about movement with people in its very heart. Either it is fast, safe and comfortable commuting between cities or moving freight between terminals, the essence is still about making the life easier and more carefree for the people. So, people could concentrate on the living instead of worrying. It's about seamless perfection of the movement. It's about bringing people and ideas together.
But first of all, to get to the point where we can reap the benefits of a functioning infrastructure we must build the railway. Rail Baltica is creating an estimated 13 000 jobs during its construction phase and more than 20 000 jobs in fields directly and indirectly related to Rail Baltica. The project is benefitting the people already now. Thousands of hours of preliminary work – studies, analysis, research has been and continues to be conducted. The scope of Rail Baltica is much bigger than just designing a railway – it is providing us with new knowledge about our environment and history. For example, we have mapped more than 50 new archeological sites, gained new knowledge about mineral resources and natural environment through studies about protected flora and fauna, just to name a few.
By now Rail Baltica has progressed in a good speed and entered into design phase. In 2018 in Estonia we are looking forward to detailed technical design tenders of Ülemiste passenger terminal which is going to be centerpiece in creating a new transportation hub and public space in Tallinn with adequate links to downtown and port. A good example is the new tramline linking Tallinn Airport to future Ülemiste passenger station and downtown – I do encourage you to use it. We are also going to procure technical designs for Pärnu passenger terminal this year and move on with Muuga freight terminal which freight volumes are expected to grow manifold with the help of Rail Baltica. The prediction for the freight volume after first couple of years is 5 million tons and by 2045 – 2050 is already predicted to be 10 million tons.
Building a greener way of transport to our people is also one objective of Rail Baltica. To lower the carbon footprint of transport sector in our region and increase the safety of transportation. Make no mistake – it is going to affect our environment during the construction period and we do everything in our power to mitigate the possible negative impacts to ecosystems and local neighborhoods so that we could benefit from the improved environment in the long run.
Rail Baltica is no longer merely a vision. It is what Estonia, Latvia and Lithuania are working together every day. Although we are still separated by years of Rail Balticas maiden voyage I am confident and hopeful that in ten years' time we will take traveling by train at Rail Baltica as the most natural thing and all the numerous choir singers can have a comfortable ride to our song celebrations!
I wish you a great day full of interesting discussions and networking.
Thank you!