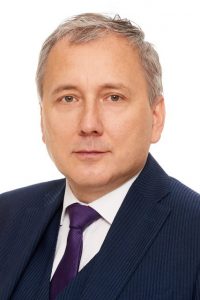 14 January 2021, Rīga – Sandor Liive, a senior management executive and entrepreneur, has been appointed as the Chairperson of RB Rail AS Supervisory Board. He has been a member of the Supervisory Board of RB Rail AS since November 2020. Sandor Liive has replaced Anrī Leimanis, who will continue to serve in the Supervisory Board as vice-Chairperson. The chairperson's position is rotating every year, and in 2021 it is going to Estonia.
"Rail Baltica clearly is the biggest interconnection project between the Baltic States ever implemented. It has a major role in turning the transport sector greener and safer. Furthermore, Rail Baltica construction and operation will be an additional growth catalyst for the Baltic Sea Region," said Sandor Liive. "The success of Rail Baltica is largely dependent on the people who implement it. Hence, the Joint Venture of the Baltic States, RB Rail AS needs to become a more attractive employer for talented and motivated experts. As Chairman, I will priorities employee attraction high on the Supervisory Board's agenda."
Sandor Liive is an experienced management executive and dynamic entrepreneur with involvement in several industries including energy, communication, construction, science, financial and social services. Sandor Liive has extensive senior leadership experience from working with Eesti Energia, where he served in the position of CEO for nine years, and, prior to that, as CFO. He has also held the position of CFO at the Port of Tallinn.
The Supervisory Board of RB Rail AS consists of six members nominated by the Shareholders and elected for a three-year period. The function of the Supervisory Board is to select the company's management, establish and execute a corporate control environment, and provide its strategic guidance.
The Supervisory Board of RB Rail AS includes the following members:
Nominated by Estonian shareholder: Ahti Kuningas, Deputy Secretary-General for Transport at the Ministry of Economic Affairs and Communication of Estonia and Sandor Liive, independent Supervisory Board member.
Nominated by Latvian shareholder: Ligita Austrupe, Deputy State Secretary of Ministry of Transport of Latvia and Anrī Leimanis, independent Supervisory Board member.
Nominated by Lithuanian shareholder: Karolis Sankovski, CEO at AB LTG INFRA, and Romas Švedas, Chairman of the Board at AB LTG.