A cooperation agreement was signed today between Kohila municipality and RB Estonia for the design and construction works of the Rail Baltica Kohila stop. Further cooperation agreements will be concluded in 2021 with all the municipalities where Rail Baltica stops will be built.
RB Estonia is tasked, according to the agreement, to organise the construction of Rail Baltica local stop station buildings, field areas, parking lots, lighting, bus stops, and access roads.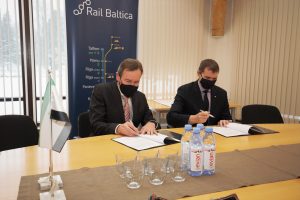 "Although Rail Baltica will primarily be a high-speed international railway connection, enabling regional train traffic within Estonia will certainly add value to the railway and increase the use of the railway. I am pleased that our cooperation with the municipality of Kohila has been very constructive and we have been working together to find the best solutions for the local community," said Tõnu Grünberg, Chairman of the RB Estonia Management Board, at today's signing.
The Kohila council unanimously approved the cooperation agreement.
Kohila's mayor Uku Torjus: "If the Rail Baltica railway passes through the Kohila municipality, then of course we are interested in having a stop here as well. This gives the inhabitants of the municipality additional opportunities for working and travelling in the direction of both Tallinn and Rapla. The cooperation agreement signed today will provide the basis for this."
The planning, design, construction and subsequent maintenance of the railway infrastructure related to the local stop of Rail Baltica shall be carried out by the authorities and companies implementing the Rail Baltica project according to the base solution of the local stop specified in the Rail Baltica design guidelines. The planning, design and construction of the station building associated with the local stops and of the facilities serving the local stop, such as access roads and parking lanes, will be carried out by RB Estonia within the base solution.