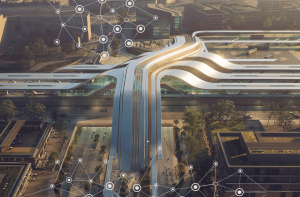 With the unique opportunities of a greenfield project and a timeline that overlaps with the introduction of 5G mobile networks, Rail Baltica is taking an advisory role in the 5GRAIL project, coordinated by the International Union of Railways (UIC) and funded by the European Union's Horizon 2020 programme. RB Rail AS, the principal coordinator of the Rail Baltica project, became a member of UIC in June 2020.
The project aims to test and validate the first Future Railways Mobile Communications System (FRMCS, the successor to GSM-R) specifications for both trackside infrastructure and on-board use. Rail Baltica has been closely following FRMCS development to determine its suitability, how this aligns with our schedule and whether Rail Baltica – as one of Europe's flagship infrastructure initiatives – could become an early adopter of this game-changing technology. This decision will be based on the standardization process, with our goal being to ensure we deliver a forward-looking railway infrastructure.
Under UIC coordination, the 5GRAIL project will be promoted by a consortium of European railways, a range of railway suppliers, the rail supply industry body UNIFE, and research centers/universities, together with an advisory panel including Rail Baltica. The main goal of the project is to deliver FRMCS based on 3GPP Release 17, building on UIC's version 1 Functional and System requirements for the Future Railways Mobile Communications System (FRMCS, the successor to GSM-R) and 3GPP Release 16, and includes railways, the railway supply industry and the research sector, as well as advisors and observers from across Europe. The goals of FRMCS include more efficient, flexible, and capable railways, all contributing to encouraging more sustainable transport and contributing to climate goals and a more sustainable future. It is also expected that FRMCS will replace GSM-R as the radio component of the European Rail Traffic Management System (ERTMS).
Rail Baltica is also evaluating other opportunities related to 5G and digital infrastructure: with a project of this scale, there are obvious synergies. Fiber ducts, masts, and locations for other equipment necessary for 5G infrastructure are already being incorporated in the designs for implementation at the same time as the railway infrastructure as part of a wider "Dig Once" philosophy that Rail Baltica is promoting.
At the same time, there are also other opportunities: in a greenfield project, systems can be designed with modern approaches, using more sustainable IT & networking technologies and integrating sensors, industrial "internet of things", "big data", open data, and other similar approaches to help reduce the lifecycle cost of the infrastructure and operations, as well as strengthen the long-term business case. The railway corridor can be used to help deliver connectivity and support a range of other projects, aligned with the Gigabit Society and similar European initiatives.
Andy Billington, Innovation and Sustainability​ Expert at Rail Baltica presented a high-level overview of the current status of 5G in Railways at the 5G Techritory event on 12 November and a more detailed overview of the "digital" opportunities linked to Rail Baltica will be published in the nearest future.
Under UIC coordination, the 5GRAIL project will be promoted by a consortium composed of European Rail Supply Industry Association (UNIFE), leading European railway infrastructure managers – DB Netz, SNCF Réseau, SBB, OBB and IP, European rail suppliers – Nokia, Kontron, Alstom, Thales, Siemens, CAF, and Teleste – as well as Research Centres/Universities – IFSTTAR & Gustave Eiffel from France and DTU from Denmark. Rail Baltica will take a role in the project's Advisory Panel.