Continuing with the design work for the Rail Baltica main line, RB Rail AS who is the global project's coordinator, in cooperation with the Latvian National Armed Forces organized an initial investigation of explosive ordnance in the upper layer of the Daugava riverbed in the territory of "Saulkalne – Daugmale", where Rail Baltica mainline, and motorway crossing is planned across the Daugava river.
Given the size and the scope as well as local and international significance of the Rail Baltica project, the Naval Forces of the National Armed Forces provided support for the search of the riverbed as a part of their military exercise, using visual and sonar search techniques.
Although there was no evidence of explosive ordnance in the Daugava riverbed, a "Soviet-era" compressor weighing about 30 kilograms was found and lifted from the river. Additionally, a plastic pipe about five centimeters in diameter was found, which probably crosses the Daugava.
The results of an investigation carried out by the Naval Forces of the National Armed Forces showed that currently there is no evidence of explosive articles in the previously mentioned territory in the Daugava riverbed, which will allow us to successfully continue the design works of the Rail Baltica main route.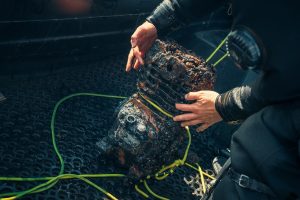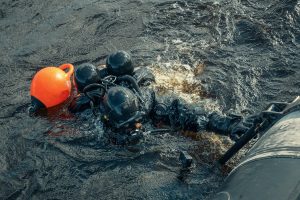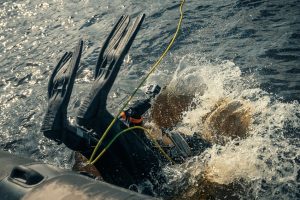 "As we are moving on with the next steps of Rail Baltica project implementation, a significant part of the design work is to make additional investigations and studies to ensure safe and sustainable railway infrastructure solutions. In most parts of Latvia, we also face the historical military heritage. In this case, the designers of the mainline section "Vangaži-Salaspils-Misa", an international team of engineers, found that the planned Daugava crossing is in an area that might be contaminated with explosive objects. This crossing, among other things, is special in that this will be the only combined railway and road bridge in the Baltics," explains Ģirts Bramans, Head of Strategic Stakeholders and Communications department.
"The implementation of large-scale projects such as Rail Baltica can be only possible by joining forces, therefore we sincerely thank the National Armed Forces, whose experts professionally handled the task. Also, we highly appreciate the support provided to the Rail Baltica project of the Ministry of Defense in Latvia," Bramans added.
Photo: https://www.flickr.com/photos/latvijas_armija/albums/72157719607572167