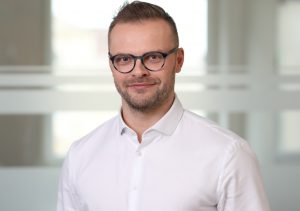 Marius Narmontas has been appointed as the Head of the Rail Baltica joint venture RB Rail Lithuanian branch. He will take over from Antanas Šnirpūnas, Railway Systems Engineer, who was serving as an interim Head of the Lithuanian branch since October 2019.
"Marius Narmontas is joining the Rail Baltica project at a crucial time when the design of the mainline is steadily progressing, and we are ready to start the large-scale construction phase," says Agnis Driksna, CEO of RB Rail AS. "The Lithuanian Branch of RB Rail AS has finished the value engineering of the mainline in the section from Kaunas to the Lithuanian-Latvian state border. We are making all the necessary steps to ensure the start of the construction on this section."
Marius Narmontas' in-depth expertise in urban, spatial planning, and construction will be an asset for the Project during the design and construction phase. Besides, his administrative experience will enable further improvements in the project delivery and contribute to strengthening relationships with the Lithuanian business sector and local communities.
For the last year, Marius Narmontas has been the Vice-minister of the Environmental Ministry where he was responsible for construction, housing, spatial planning, urban planning and architecture, climate change, protected areas, and landscape policies. He has also served as the head of the Construction and Territorial Department at the Ministry of Environment. He has a Bachelor's degree in landscaping, recreational architecture, and landscaping studies from the University of Klaipėda.
Rail Baltica is a new fast, conventional double-track electrified and ERTMS-equipped railway line with a maximum design speed of 249 km/h (the maximum operational speed of 234 km/h) on the route from Tallinn through Pärnu – Rīga – Panevėžys – Kaunas to the Lithuanian-Polish border, with a connection from Kaunas to Vilnius. It is planned to complete the project in 2026.