20 November 2020, Riga – Marc-Philippe El Beze, an experienced international high-speed railway professional, starts his role as Chief Technical Officer (CTO) and member of the Management Board of RB Rail AS. Marc-Philippe El Beze will manage all technical aspects of the global Rail Baltica project in cooperation with national beneficiaries, implementing bodies and key external stakeholders. He will be responsible for technical aspects of studies, design, and construction of the high-speed railway line.
"We are delighted to welcome on board Marc-Philippe El Beze, the incoming Chief Technical Officer, who was appointed to this position on 16 November. Mr El Beze is a high-speed railway expert with decades of hands-on experience from complex railway projects across the world. I am confident he will further strengthen and accelerate the Rail Baltica project as it enters the construction phase in all countries," said Anrī Leimanis, Chairman of the Supervisory Board
During his first meeting with the team in Rīga Marc-Philippe El Beze said: "I am delighted and grateful to Rail Baltica for giving me the opportunity to contribute with my 40 years of railway experience, gained over five continents, to this future-changing European project. Taking care of Rail Baltica people, team spirit, and endeavour to deliver the most efficient railway infrastructure will be my contribution to this legacy. Not denying or overlooking the problems to come along the way but already foreseeing the pride and pleasure of such a common accomplishment".
As reported before, on 15 October 2020 the Supervisory Board of the Rail Baltica joint venture RB Rail AS appointed new Management Board members for a three-year mandate. The new Management Board will represent all key competencies required for a successful project implementation: project planning and control, technical and engineering excellence, financial planning as well as strategy and stakeholder management.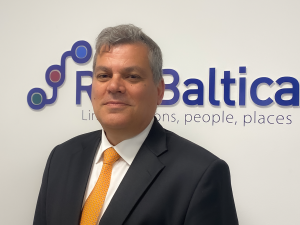 About Marc-Philippe El Beze
Marc-Philippe El Beze has over 39 years of experience in the rail industry, including working on global rail projects in Europe, Canada, Brazil, the Middle East, Asia, North Africa and Oceania.
During his professional career, El Beze has delivered the most up to date railway systems including strategy and programme definitions; project set-up and management; project control and reporting; engineering processes; design management in-house or subcontracted; procurement; installation and implementation; testing; validation, commissioning and approval.
His executive managing experience also includes creating, developing, reorganizing, and leading large railway organisations as well as developing, leading, and finalizing complex international tendering processes for railway systems, operations and maintenance.
Most recently he held an Engineering Manager position at the Vinci Construction GP/Link Alliance where he worked on the City Rail Link project in Auckland, New Zealand. His responsibilities included restructuring and managing the engineering department for the City Rail Link project to align civil engineering with the Rail System Engineering.
Marc-Philippe El Beze holds a University Diploma in Sciences and a Railway Infrastructure Manager graduation from the French National Railway.