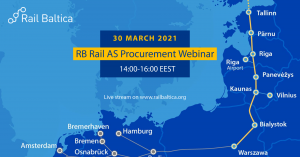 We would like to invite you to RB Rail AS Procurement Webinar, which will take place on 30 March 2021 at 14:00 EEST.
The webinar will introduce the Rail Baltica plans in 2021 and RB Rail AS Procurement Plan – key tenders and timeline. In addition, it will be an opportunity for every supplier to better understand the procurement process, evaluation criteria, and main requirements that will help to succeed in future tenders. Each presentation will be followed by a Q&A session.
During the webinar, presentations will be given by the representatives of the Rail Baltica joint venture: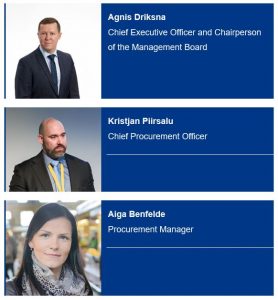 Technical details
The presentation will be moderated by Kaspars Briškens, RB Rail AS Head of Strategy and Development
Timing 30 March, 14:00 EEST – 16:00 EEST;
Live streaming on railbaltica.org; registration is not required;
The working language of the event is English;
Contacts of the organisers: Edīte Pūce (e-mail: edite.puce@vilands.lv).
Webinar Agenda
14:00
Opening remarks

What to expect from Rail Baltica in 2021

Agnis Driksna,

CEO, RB Rail AS

14:10
Doing business with Rail Baltica: Procurement Plan for 2021, key tenders, and timeline
Kristjan Piirsalu, Chief Procurement Officer, RB Rail AS
14:30 – 15:00
Q&A
15:00
How to succeed in RB Rail AS procurement – a guide to the process, requirements, and evaluation
Aiga Benfelde, Procurement Manager, RB Rail AS
15:30-16:00
Q&A