On 1 February, Rail Baltica project implementers met with the "Friends of Rail Baltica" working group, established by Members of the European Parliament, and chaired by its Vice-President Dr. Roberts Zīle.
The participants of the meeting had the opportunity to review Rail Baltica implementation progress. The growing strategic importance of the project in the current geopolitical context and its role in the stabilization of supply chains in challenging market conditions was repeatedly emphasized at the meeting.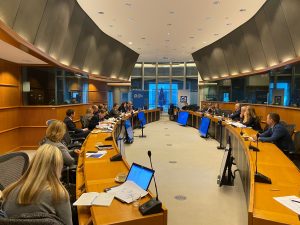 The meeting was attended by MEPs, as well as The North – Sea Baltic TEN-T Corridor Coordinator Mme Catherine Trautmann, and Director for Investment, Innovative & Sustainable Transport at DG MOVE, Mr Herald Ruijters. Representatives from Rail Baltica global project coordinator RB Rail AS Mr Agnis Driksna, Chairman of the Management Board and CEO, and Mr Ignas Degutis, Chief Financial Officer, presented the latest developments in the project. Additional information on the progress of the project in each of the countries was also provided by representatives of the Ministries of Transport – Ms Loreta Maskaliovienė, Deputy Minister of Transport and Communications of the Republic of Lithuania; Mr Dins Merirands, Deputy State Secretary of the Ministry for Transport of Latvia; Mr Andrzej Bittel, Secretary of State of the Ministry of Infrastructure of Poland, and Ms Sabina Lindström, Director General of the Ministry of Transport and Communications of Finland.
Mme Catherine Trautmann welcomed the growing political support by the project's member states. "Rail Baltica used to be a priority. Now it is a necessity. Today I was reaffirmed that there is a common understanding among all the countries involved in the implementation of this global project," said Mme Trautmann. She was hopeful that the progress of the project allows for more active public discussions about the services that residents will receive: "We should start a public conversation about wagons, seats, ticket prices and the like, to prepare residents for the arrival of the new railway."
Agnis Driksna, Chairman of the Board of RB Rail, added: "We are pleased that the project has already entered the next stage of maturity. Construction work is underway in all countries and will be followed by large-scale construction outside the cities in 2023."
"Friends of Rail Baltica" is an inter-institutional working group in the European Parliament, which, since 2016, has been organizing regular meetings to discuss the progress of the project implementation. The working group is chaired by the Vice-President of the European Parliament and member of the Transport and Tourism Committee, Dr. Roberts Zīle.