Rail Baltica stands as the largest railway infrastructure undertaking in the Baltics, with equally impressive dimensions of its construction sites. Currently in Latvia, construction is taking place for the Rail Baltica Central Station at the center of Riga on the railway's southern side, spanning from Maskavas Street to Lāčplēša Street, covering a total of three kilometers. Simultaneously, the Rail Baltica international passenger terminal near Riga International Airport is also under construction, featuring a new station building and a section of the viaduct, which covers an area roughly equivalent to 13 football fields. Drones are being utilized on both construction sites to support efficient construction and operational monitoring. These drones regularly fly over the construction sites, collecting data that serves numerous purposes for the construction teams.
The Rail Baltica international stations in Latvia are considered the most complex engineering objects along the Rail Baltica route. In the heart of Riga, which serves as an active hub with the current railway station operating continuously amidst ongoing train operations, a steady flow of people, and vehicles, the Rail Baltica Riga Central Station is under development. Currently, a new railway viaduct is being constructed to replace the removed embankment. This viaduct will serve as the track for Rail Baltica trains, creating a new railway junction.
Every day, approximately 350 people from over 40 companies work at this extensive construction site, utilizing various machinery. Notably, the site accommodates 11 mobile cranes, three tower cranes, four excavators, three self-dumpers, and more. Aerial drone flights are regularly conducted above the construction site's expanse.
Ģirts Pavlovs, Survey Manager at BERERIX, the company in charge of the construction of Rail Baltica Riga Central Station, explains that they capture the progress of construction work with the help of daily drone flights. Subcontractors such as GEO Development and Metrum are occasionally involved in more complex and specific tasks that require higher data precision and resolution.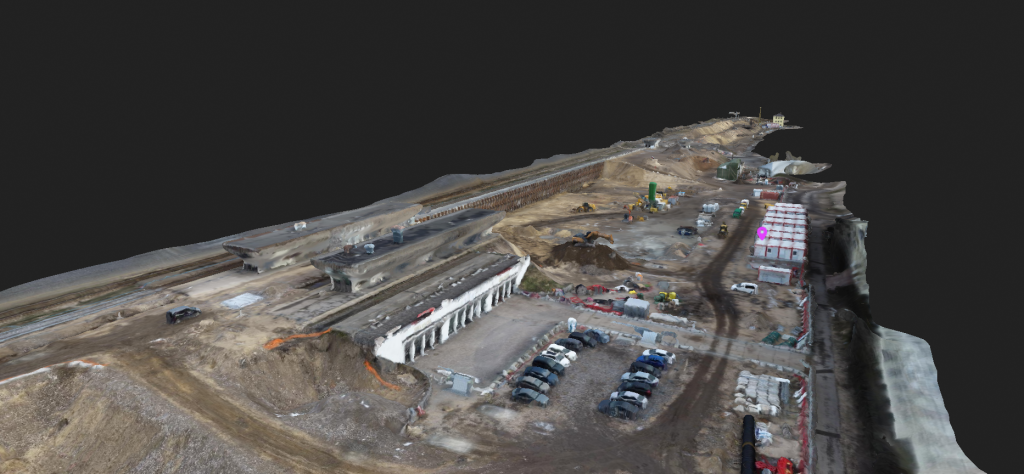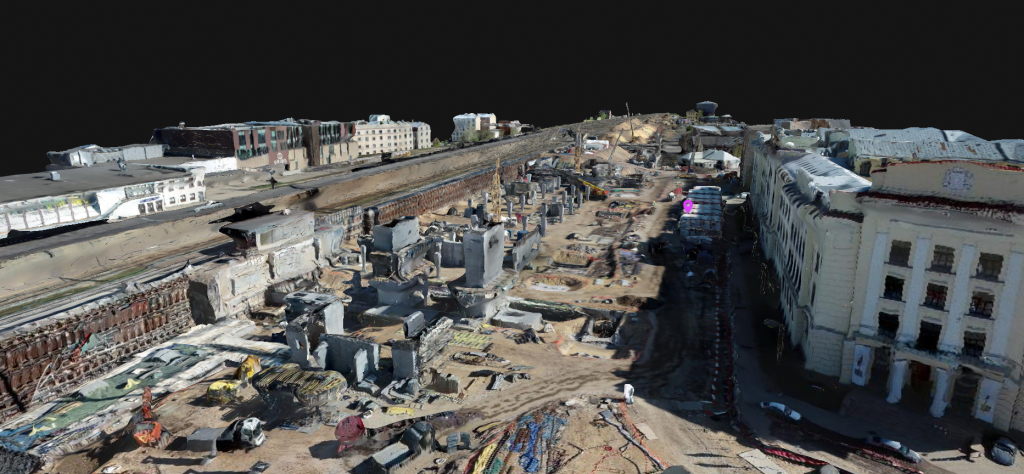 The Rail Baltica construction site at Riga International Airport is also notably extensive. In addition, new access roads are currently under construction alongside the project. These access roads comprise a communication network that spans over 40,000 meters in length, with the constructed roads themselves measuring around 2,000 meters in length. The site has been supplied with over 19,000 tons of gravel and more than 21,000 cubic meters of sand. Drones have been utilized in the Rail Baltica Riga Airport project since its design phase.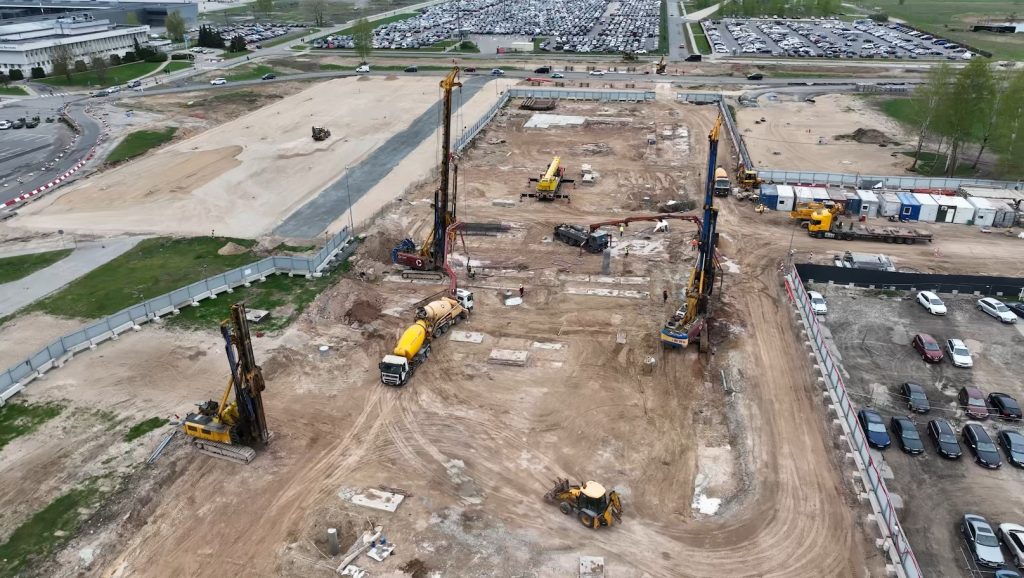 Inga Timma, the Head of the BIM Department at BSL Infra, explains that drones were employed to scan nearby buildings, roofs, and facades, capturing photogrammetric data before the commencement of construction work. This data was utilized to create a 3D information model for the purpose of Building Information Modeling (BIM), which would be integrated with the planned new elements. Currently, during the active construction phase, drones are employed for remote sensing tasks everyday with subcontractor AirScout carrying out this responsibility.
Various data for daily work
In the Rail Baltica station near the airport, daily drone flights capture video footage of the construction area from a height of 40 meters (at present), typically lasting about 10 minutes, including take-off and landing. This results in a video segment of roughly six to seven minutes. "The flight path remains consistent for progress observation. For photogrammetry flights, we allocate two days, as they are lengthier – around an hour of drone flight during the day, followed by data scanning. Within these two days, we gather up to about 1000 photos, which are then transformed into points linked to specific coordinates. The construction site has designated ground control points, each with its own coordinate. When the drone is in flight, these points are visible, noted, and subsequently, the obtained images are matched with these points to generate a 3D point cloud," Inga Timma elaborates. Later, various construction company specialists engage with this remote sensing material. The acquired remote sensing data is also provided to the airport specialists.
Assessing progress for work supervision, planning, recording, and history
"Receiving video recordings every day, we can see the progress of the construction site: it's an opportunity to follow what's happening on the construction site without leaving the office. There have been cases where our drone-recorded videos have alerted us to potential problems that can be addressed in a timely manner. For instance, when work was being done on the Lāčplēša Street crossing, we noticed from the air that next to the embankment, where the ground was being excavated, there was a sort of crack in the ground quite close to the tracks. If a construction worker were to walk by this area, they might not even notice it," says Ģirts Pavlovs.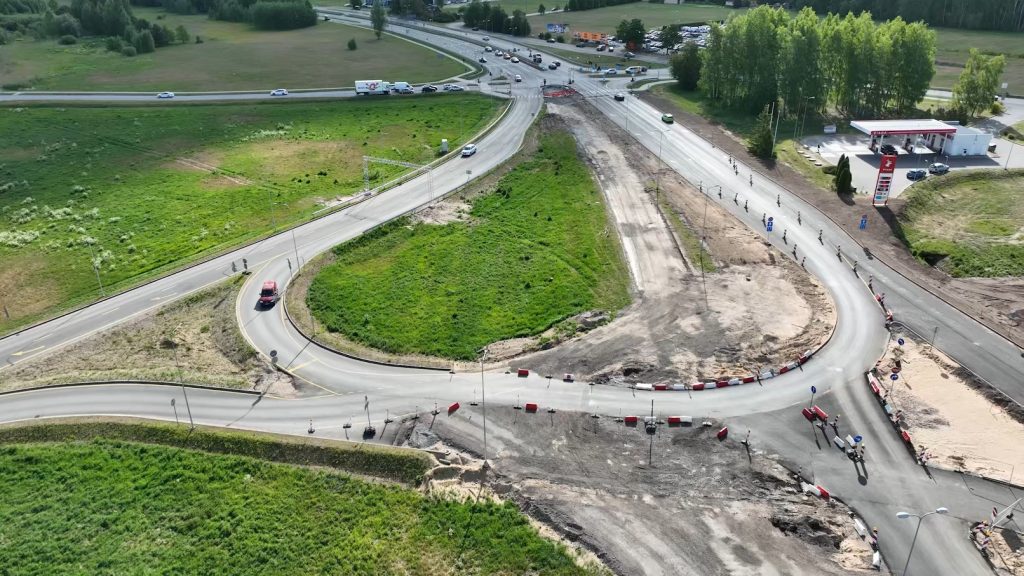 Inga Timma adds that the daily drone operations and data collection also discipline the workforce and help maintain order on the construction site (everyone knows that everything is under scrutiny). It also allows for monitoring the construction process: seeing what has already been done and what needs to be done next. "The data is also useful for progress report presentations: using the photogrammetry method, we can visually see how the construction site changes over the course of a month. Both images and videos can be used for planning work. We often overlay projects on orthophotos and then plan future work, as the overall view of the construction site is very clear: we can see where there are areas where additional work could start, how to use logistics, etc. The data also helps us to understand the scope of work, as photogrammetry point clouds in specific programs can measure volume: both distances (in meters, centimetres) to existing elements and volumes for earth excavation – all of this can be obtained from these data with a high level of accuracy and very quickly. At some point, our construction site will undoubtedly expand even more, and then the use of drones will be even more acutely necessary. It's not that simple to walk around such a large construction site every day. Drones proved to be valuable assistants, as their work is fast and notably precise."
The Rail Baltica Riga Central Station currently covers an area of approximately 20 hectares and drone flights typically take three to four hours, followed by several hours of data post-processing on a computer. "Without too much effort, very useful data can be obtained. If this amount of data were to be obtained using previously used methods, where a surveyor walks the entire large construction site with their geodetic instruments, it would take two working days and at least two surveyors, which would be incomparable in terms of cost. From a safety perspective, it cannot be compared either – the construction site is very active, with a lot of different construction materials, construction equipment, debris, and areas that cannot be accessed and measured manually," explains Ģirts Pavlovs.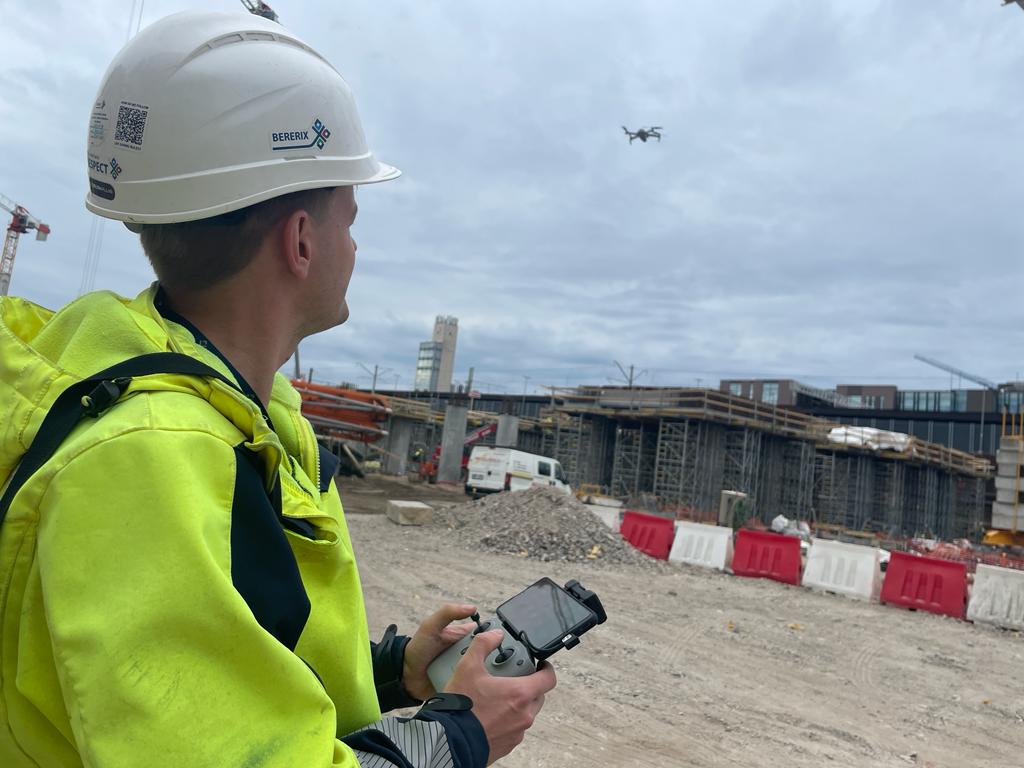 Acquired data also carry historical significance. For instance, it provides proof of past landmarks, like a Soviet-era bunker or the Titanic shopping centre, that once stood in the vicinity of the Central Station but were eventually removed to pave the way for the new station and its associated infrastructure. As time passes, the collection of drone-obtained data offers a clear representation of advancement. This is why construction professionals often exchange this data to provide insights into the ongoing progress of the Rail Baltica project.
Take a look at the article on the use of drones in Rail Baltica construction sites published in the "Būvinženieris" magazine (June 2023 issue). The full article in Latvian is available on the Rail Baltica project's national implementer's website in Latvia, Eiropas Dzelzceļa līnijas. The publication was made in collaboration with the "Būvinženieris" magazine.