The Estonian Transport Administration, in collaboration with Rail Baltic Estonia, has announced a tender for the construction of the Kangru traffic junction located on the border of Kiili and Saku municipalities.
The Kangru traffic junction will address the intersections of the Viljandi highway, Kurna-Tuhala public road, and Rail Baltica railway. As part of the project, a pedestrian and bicycle path will be constructed, connecting Kangru village to Lake Raku. The existing intersection of Viljandi Highway and Kurna-Tuhala will be transformed into a multi-level interchange to enhance traffic safety. Furthermore, a 2.5 km stretch of Viljandi Highway will be widened to four lanes, with the new four-lane section situated approximately 300-400 meters west of the current alignment.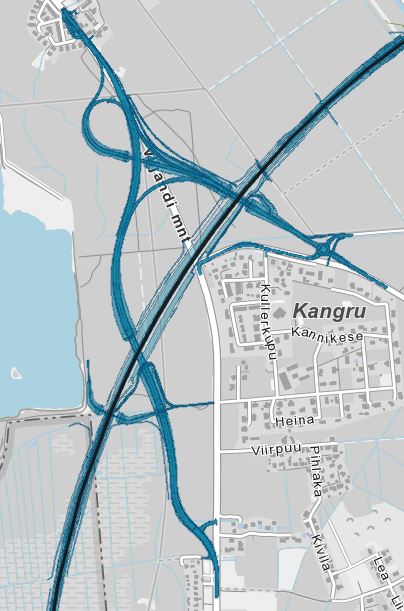 "We are pleased that, thanks to excellent cooperation between the Estonian Transport Administration and Rail Baltic Estonia, we can offer the construction sector the implementation of ambitious projects. Construction works are already underway at many of the Rail Baltica road intersection sites, and the Transport Administration will soon announce new tenders for the construction of road viaducts along Rail Baltica," said Priit Sauk, Director General of the Estonian Transport Administration.
"The Kangru traffic junction, located near Tallinn, will be one of the largest road construction projects in the Estonian section of Rail Baltica. It will address the intersection of Viljandi Highway and the Rail Baltica railway, directly contributing to the safety of road transportation," said Anvar Salomets, Chairman of Rail Baltic Estonia. Salomets estimated the cost of the construction works to be nearly 23.5 million euros.
The construction will involve the creation of five reinforced concrete structures, including four viaducts and one pedestrian and bicycle tunnel. Three of the viaducts will cross the Rail Baltica railway line, while one will cross the future four-lane Viljandi Highway. One of the viaducts crossing the Rail Baltica route will be dedicated to pedestrians and cyclists. The pedestrian and bicycle tunnel will be built beneath the Viljandi Highway to ensure safe passage for pedestrians and cyclists.
The opening of bids for the recently published construction tender is scheduled to take place in the second half of 2023, with the contract expected to be signed in the autumn of this year. Construction will commence in the first half of 2024 and is scheduled to be completed no later than the first quarter of 2026.
The Estonian Transport Administration is the client for the construction works. Road sections will not be closed to traffic during the construction period.
Construction of the intersection is mostly financed by the European Union funds.