The Ministry of Transport and Communications in Lithuania has approved an alternative for the new Rail Baltica railway line from Kaunas to Vilnius. After numerous discussions with the residents and communities of Vilnius and Kaunas, and the surrounding regions, as well as considering the standards applicable to the European high-speed rail, it was decided that the so-called northern S5 alternative best meets the needs of all stakeholders.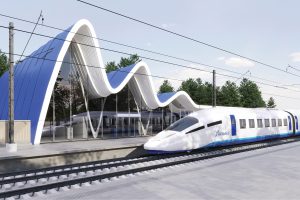 The responsible partner UAB Sweco Lietuva and DB Engineering & Consulting GmbH have developed four alternative routes this year for the Rail Baltica railway between Vilnius and Kaunas. The cost-benefit analysis showed that the most optimal solution considering all environmental, social, and economic aspects would be to implement solutions of the engineering infrastructure development plan according to the conceptual alternative S5, otherwise known as the northern alternative S5. Additionally, the cities of Lentvaris, Vievis, and Kaišiadorys will be connected by this European track, which was not provided for in other southern alternatives.
Trains will be able to travel up to 249 km/h on the Rail Baltica railway line. The aim is to ensure connectivity and that the main cities, airports, and Vilnius and Kaunas railway stations can be reached at the shortest possible time.
"Rail Baltica is a strategic and the largest infrastructure project in the history not only of Lithuania but also of all the Baltic States, connecting Lithuania with the European railway network. To realize the full potential of European railways, we must not only maintain the high quality of the project but also live up to public expectations. Reconciling all interests is a challenge, therefore not only inter-institutional cooperation is very important, but also dialogue with the residents of Vilnius and Kaunas districts," says Loreta Maskaliovienė, Vice-Minister of Transport and Communications.
Since the northern alternative was chosen as the most optimal route for the Vilnius-Kaunas section, after public discussions, it is also planned to seek the most acceptable solutions for several specific areas during the next stage of the detailed solutions.
In the later phase, specific territories, land plots, and its parts, through which the Rail Baltica railway line will pass, will be determined, and it is planned to make this information public in the second quarter of 2022. The owners and users of the respective land plots will be informed on individual basis.