LTG Infra, the company tasked with implementing the Rail Baltica project in Lithuania, launched the second stage of the tender for the supervision of the Neris bridge construction works, involving companies that have passed the first stage of the tender. During the tender, a company will be selected to perform technical supervision of the construction works and will offer engineering services.
"The competition is carried out in two stages. It is not such a common case in the practice of public procurements in Lithuania. However, given the complexity of the project, it is subject to extraordinary requirements, and the selection is made using all possible safeguards to select the best service provider. Nevertheless, an engineering work of this level has never been built in the Baltic States and will probably not be built for a long time," says Karolis Sankovski, CEO at LTG Infra.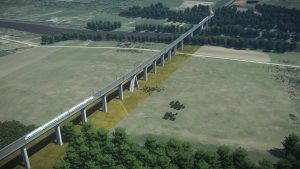 The tender for technical supervision of contracting work and engineering services are held in two stages. During the first stage, the tender participants' compliance with technical requirements was evaluated.
In the second stage, the first companies are invited to submit proposals for the implementation of the tender tasks. LTG Infra will be waiting for offers until this 1 July, and the contract with the winner is scheduled to be signed in August.
The services are to be purchased on the basis of the FIDIC Red Book – the most frequently applied model in Lithuania for both the private and public sectors. One of the advantages of this model is that the work supervision engineer measures and evaluates the quantities of work done by the contractor and the customer then makes payments based on solely work that has been completed, thus avoiding overpaying for potentially greater amounts of work than is actually done.
The new railway bridge across the river Neris will rise up near Jonava, and will be the longest railway bridge in the Baltic States. In total, the new bridge will span 1,510 metres, and the longest span between the bridge's supports where it crosses the river will reach 150 metres.
Currently, the longest bridge in Lithuania is the Lyduvėnai railway bridge across the river Dubysa, which spans 599 metres, while the longest road vehicle bridge is a bridge over the river Nemunas near Jurbarkas, which spans 494 metres.
Rail Baltica is currently one of the biggest investments in improving the mobility and travel opportunities as well as developing business, trade, tourism, and the exchange of goods in the region. It is the largest railroad infrastructure project to be constructed in the Baltic countries in the last hundred years. The total estimated construction