On 29 March 2019, representatives of the Rail Baltica Joint Venture RB Rail AS and the Spanish company IDOM Consulting, Engineering, Architecture signed the contract in Tallinn to commence the design services for the railway section from Pärnu to Rapla in Estonia. This is the first design contract signed for the main line of the Rail Baltica with six more to follow shortly.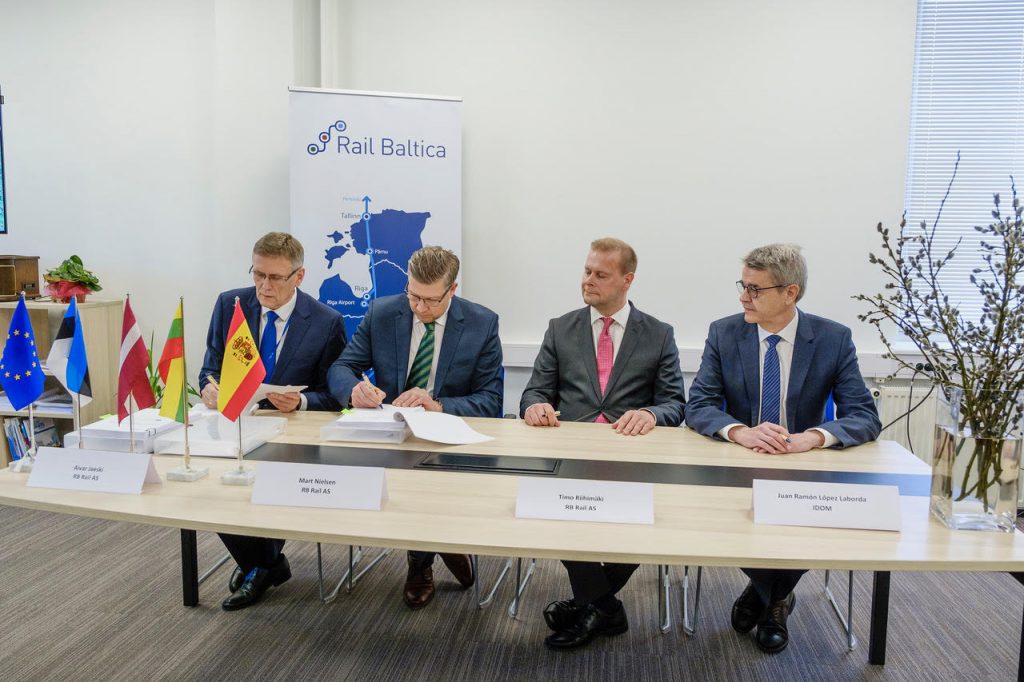 The section is estimated to be 71 km long spanning from Harju, Rapla county border to Tootsi in Pärnu county. According to preliminary design the section includes 13 road viaducts, 9 railway viaducts, 9 animal passages and 4 railway bridges. The total contract price for this section is 6 802 522 EUR (excluding VAT), including design and design supervision.
Within the next 24 months IDOM, in partnership with local Estonian company Skepast & Puhkim OÜ, will deliver the design services for the construction of the railway substructure, superstructure and related civil structures. Design services contain site investigations, value engineering, development of the master design and detailed technical design, also design supervision services during the construction period will be carried out.
"Starting design activities in the first section of the main line is a significant achievement for all partners involved in the Rail Baltica Global Project," says Timo Riihimäki, RB Rail AS CEO. "RB Rail AS has conducted a successful international procurement procedure and we are well prepared to start the design works."
"Rail Baltica it is not only about railway. This project was born to improve the links between the European countries and people. We are very proud of being part of this challenge," says Juan Ramon Lopez, Managing Director of Infrastructure at IDOM. "Our team is eager to share our deep knowledge and wide experience in the rail sector. We are committed to the environment and working under sustainability standards as well as to combine global and local expertise and knowledge."
"Today an important signal is given to the Estonian construction market: project timing gains clarity and mid-term resource preparation can start. I am glad that already in this contract, European railway experience is bound with Estonian companies who carry the deep knowledge of our country specifics," says Riia Sillave, Rail Baltic Estonia CEO.
In total, 7 out of 11 procurement procedures of the detailed technical designs have been launched in the Baltic states, covering 57% of the entire Rail Baltica line. For Estonia, the detailed technical design procurement procedures are underway for the entire line from the Latvian/Estonian border to Tallinn. In Latvia, two out of four designs have been launched around Riga (Central section) and the same for Lithuania – two sections out of four, spanning from Kaunas to the Lithuanian/Latvian border.
IDOM Consulting, Engineering, Architecture, S.A.U. has more than 20 years of experience in designing conventional and high-speed rail in Europe and the US. IDOM technical expertise includes civil engineering, track, electrification, signalling, rolling stock, operational planning and maintenance. Recently, the company has been involved in high speed projects in Spain, Poland and Sweden. IDOM employs 3000 people in 40 offices worldwide.