Rail Baltica is a railway infrastructure megaproject that spans across three countries. The depth of skills and expertise required to successfully execute a greenfield project of this caliber is extensive and would not be possible without our diverse team of professionals.
In our new series "Rail Baltica: The People Behind the Vision", we will introduce you to some of our team members. These individuals are the driving force advancing the Rail Baltica project with their professionalism, dedication, and passion for this project.
Māra Saukante, Technical Project (NoBo/AsBo services) & System Approval Manager at RB Rail AS
AsBo (assessment body) and NoBo (notified body) ensure that the project will meet safety and interoperability requirements according to European regulations. As System Approval Manager Māra is responsible for creating the System Approval Plan including all the requirements from the relevant stakeholders (NSA, ERA, etc.) to receive final approval of the system and Authorization to put in service in the three countries, and supervise the implementation of the Plan, coordinating the creation and collection of the evidence and documents necessary to complete the approval processes.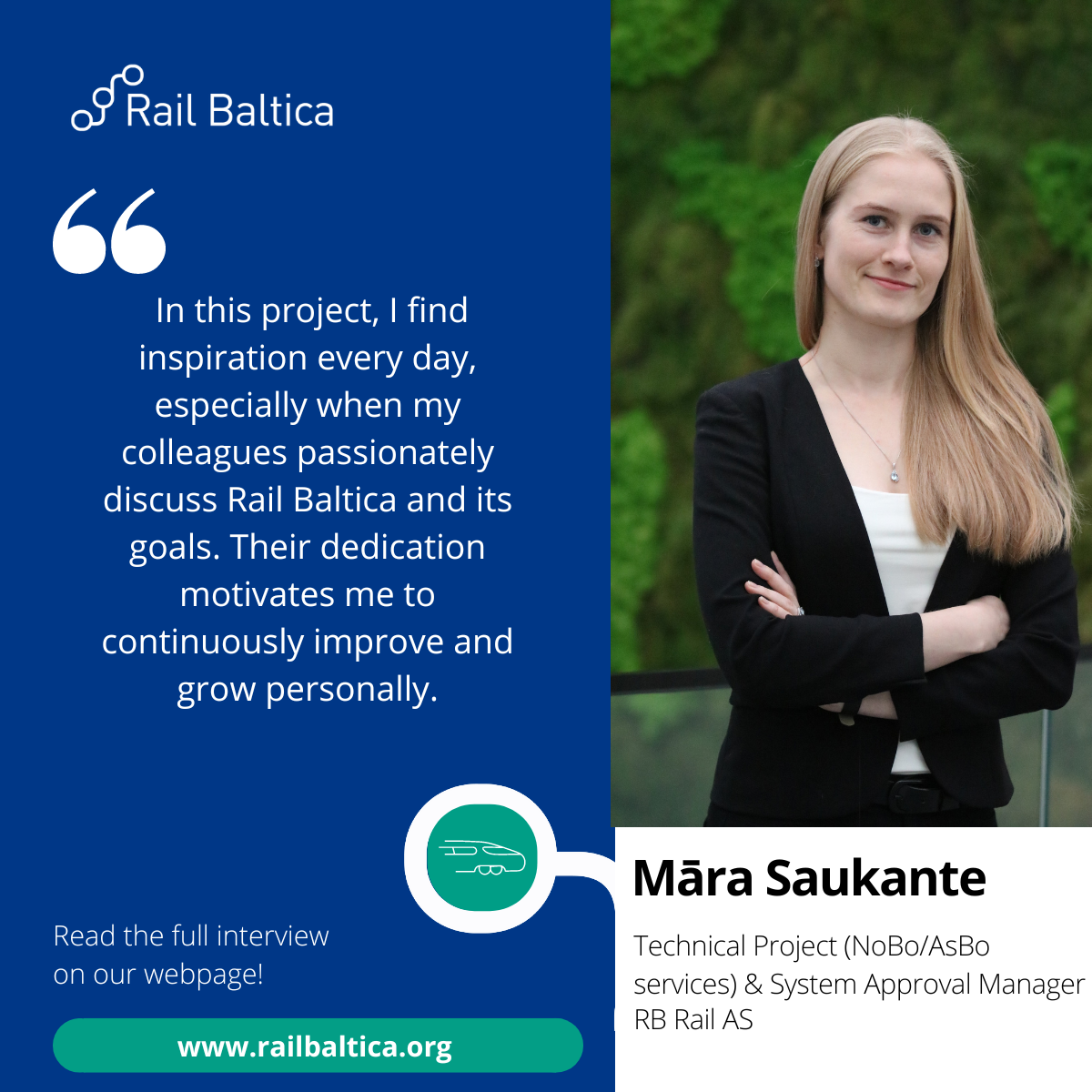 What is your role in Rail Baltica?
As a project manager, I am committed to taking all necessary actions to ensure the successful achievement of our project's goals. Our project ensures that Rail Baltica trains not only run and operate in every Baltic country but also meet Europe's interoperability and safety standards enabling our residents to travel to other European countries by rail. My team and I are working to ensure that the design and construction adhere to European requirements, guaranteeing the safety of the railway line for operation.
When did you join the Rail Baltica project and what inspired you to become a part of the team?
I joined Rail Baltica almost two years ago. I had some prior experience with railways from previous jobs, and since then, I have always found it to be something interesting and worth exploring. I have known for a long time that I wanted to participate in this mega-project because it is a once-in-a-lifetime opportunity, not only to witness its creation but also to contribute my knowledge and learn from colleagues worldwide.
I believe my affinity for the railway field developed during my management of a railway design and construction project in Liepāja, a beautiful city in the west of Latvia. This project was particularly interesting for me because I am from Liepāja, and the railway was always a part of my childhood landscape.
Even now, I find inspiration every day, especially when my colleagues passionately discuss this project and its goals. Their dedication motivates me to continuously improve and grow personally.
What, in your opinion, is the most challenging aspect of this mega project?
At times, handling different parts of the project of such scale can be a bit complicated. It is a challenge for me not to be everywhere and not to know everything about my project because there are so many things going on and it is impossible for one person to know everything. But, by working well together as a team, we manage to tackle these challenges.
Given that NoBo and AsBo services encompass all three Baltic countries, including not only the mainline but also local facilities and regional stations, staying informed about each individual project can be challenging. Additionally, it can be difficult to anticipate potential changes in project development that might impact NoBo and AsBo contracts. It is intriguing to note that numerous projects across different countries, managed by various institutions (the joint venture or implementing bodies), all work towards a shared goal within the framework of the Rail Baltica project.