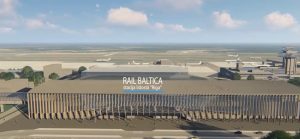 The international tender for the construction of Rail Baltica station, viaduct and railway at Riga International Airport has ended and the winner has been selected. The construction will be carried out by company consortium B.S.L. Infra, which includes Austrian company Swietelsky AG and Latvian construction companies SIA Binders and AS LNK Industries. The financial offer from this consortium is EUR 236 million.
Kaspars Vingris, Chairman of the Board at Eiropas Dzelzceļa līnijas, says: "This Rail Baltica section is large and complex: viaduct will connect the station and railway to the airport and it must be fully integrated into the existing infrastructure while taking into the account other projects that are planned nearby. As a result of the tender, a combination of international and local expertise together with an appropriate financial offer has been obtained. Even though previously the total cost of the procurement was estimated to be around EUR 250-280 million, it is a delight that the financial offer of the winner totals EUR 236 million. The planned duration of the works is five years. It has to be pointed out that the Austrian company Swietelsky AG has almost 100 years of experience in the construction of railway infrastructure."
It was an intense competition – eight candidates competed for the opportunity to sign the contract. That allowed Eiropas Dzelzceļa līnijas to choose the offer that gives the best value for money. However, organizing a tender and for the candidates to prepare complex financial and technical offers during the limitations of the pandemic was challenging. Overall, the Rail Baltica project in Latvia has made significant progress as the construction phase has begun. In 2021 construction works will take place in two large Rail Baltica sections – at Riga International Airport and Riga Central Station, where the construction works were started at the end of November. What is more, design works are ongoing for the whole Rail Baltica main line in Latvia.