In June 2021, the Rail Baltica joint venture RB Rail AS, for the second consecutive time organized "Rail Baltica Academy", an online education platform consisting of several sessions and aimed to share railway industry expert's knowledge about the different aspects of the Rail Baltica project.
The sessions included topics such as Innovation and Sustainability, Environmental aspects of the Rail Baltica project, BIM standards, railway and airport interoperability and others, presented by the top experts from the RB Rail AS and implementing bodies in Lithuania and Latvia respectively (AB LTG Infra and SIA Eiropas Dzelzceļa līnijas).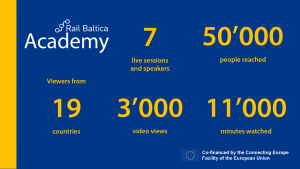 The online sessions gathered over 3000 viewers from 19 different countries.
"We are very glad to see that so many people wanted to know more about our project," said Andy Billington, Innovation and Sustainability Expert at RB Rail AS. "It was a useful way for people to learn more about the global project, our activities and the potential benefits beyond the railway itself, such as digital as well as physical links."
Rail Baltica summer sessions can be repeatedly viewed here.
"Rail Baltica Academy" is planned to continue already this autumn.
The "Rail Baltica Academy" summer sessions offered opportunity to STEM students and the general public interested in railway engineering, construction, maintenance, environmental issues, innovation and other topics to gain direct access to the key Rail Baltica experts from the Global Project coordinator RB Rail AS and implementing bodies in Latvia, Lithuania and Estonia, and learn from them about the latest industry trends and how they are being applied in Rail Baltica.
In the first edition of Rail Baltica Academy, which took place in November 2020, over 280 students from 14 educational institutions from the Baltics, Germany, Spain, and the Netherlands, participated.