Kaspars Briškens, Head of Strategy & Development at Rail Baltica joint venture RB Rail AS, will leave the company as of April 29 to undertake exciting new professional and public challenges. As the longest-serving employee of the company, Kaspars was part of the original Supervisory Board from the founding of the company in 2014, later assuming responsibility for the long-term commercialization and development of Rail Baltica and championing the 'Rail Baltica economic corridor' philosophy. He was first involved in the Rail Baltica project as a young diplomat with the Latvian foreign service back in 2006, later playing a key role as political advisor to two Latvian transport ministers, not least in the establishment of the Rail Baltica joint venture, development of the EU CEF and TEN-T Regulations, as well as securing the inclusion of Riga International Airport in the Rail Baltica high-speed alignment in Latvia.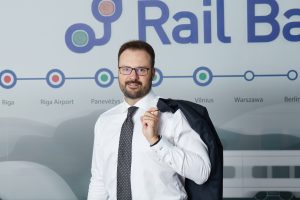 As the leader of the highly professional Rail Baltica Strategy & Development team, Kaspars developed a comprehensive Rail Baltica long-term development and commercialization strategy around four core areas: marketing, international promotion and supplier relations; multimodal mobility & logistics development; transport economics; and innovation, digitalization & sustainability. Working alongside world-class partners, such as Atkins, TÜV SÜD, Ramboll, AECOM, DB, he led the delivery of key Rail Baltica long-term studies and strategies, including the landmark Infrastructure Management Study. As the megaproject's international ambassador, Kaspars Briškens developed more than 40 institutional partnerships with leading industry organizations and diplomatic services, represented Rail Baltica in more than 30 international events, and led 10 Rail Baltica roadshows across Europe.
"Kaspars has greatly contributed to the Rail Baltica global project from the very first day not only with his strong and global vision, but more importantly he has been and still is a true embodiment of the core values that the Rail Baltica represents: people, purpose, and professionalism. It has been a true pleasure working with a colleague and a professional with such passion, ambition, and care for the project. On behalf of the management board and the whole Rail Baltica team, I wish Kaspars success in his future endeavors!", – says Agnis Driksna, CEO and Chairman of the Management Board at RB Rail AS.
Kaspars Briškens: "I have been privileged to serve as a member of a truly world-class team propelling forward the Baltic Project of the Century. Together we have learned from the world's best and promoted the understanding that Rail Baltica is so much more than a railway construction project. It has the potential to not only become an innovative connectivity game-changer but also transform socio-economic development in North-East Europe. I remain committed to the fundamental values and objectives of Rail Baltica – transparency, fair and equal competition, well-functioning future market, multimodal, sustainable, and digital-native mindset, as well as commitment to universal accessibility where no future passenger is left behind."