A consortium consisting of SIA Forma 2 (Latvia) and Prointec S.A.U. (Spain) has won the open tender for the engineering and construction supervision of Rail Baltica station at the Riga International Airport and related infrastructure. The association has submitted the most economically advantageous tender. Supervision of engineering works will have to be ensured during the construction and warranty phase of the station building, access roads, overpass, and a new railway line.
"Leading European and Latvian construction supervision experts participated in the tender. The applications received for the tender allowed us to choose the best and most economically advantageous offer. The project is complex, so monitoring the quality of construction works in accordance with all safety, operational and environmental accessibility requirements is especially important," emphasizes Kaspars Vingris, Chairman of the Board of Eiropas Dzelzceļa līnijas Ltd..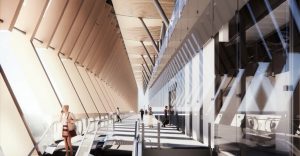 The station at Riga International Airport will be the first high-speed rail and air connection center in the Baltics. A modern and multifunctional passenger service complex will be created, which will be connected to the airport infrastructure and will offer new mobility opportunities and amenities for passengers. The construction of a 10m high overpass will also be the first of a kind in Latvia, starting at Mazās Gramzdas Street and continuing for 2 km throughout the airport territory. The duration of the contract is 10 years from the time of signing, including the provision of services for a period of five years during the construction contract warranty phase. The project is being implemented in five stages, and payments for the work performed will be made in accordance with the established stages of implementation. The total price of the contract will be EUR 5 849 799.72 without VAT.
As already stated, the implementer of the Rail Baltica project in Latvia – Eiropas Dzelzceļa līnijas – announced an open tender for the engineering and construction supervision of the Rail Baltica station at the Riga International Airport and related infrastructure in July this year, setting high requirements for competitors. The candidate had to have accumulated professional experience during the last seven years in construction supervision for the construction of railways, bridges, and overpasses, as well as for the construction of public buildings of at least 16,000 m². The average net turnover of the tenderer in the respective field during the last three years had to be at least EUR 3 mln, as well as positive equity in 2019.
At the beginning of September, four bidders submitted their applications. The contestants had formed consortiums representing construction supervision professionals from five countries – Germany, France, Latvia, Greece, and Spain.