State Railway Technical Inspectorate of Latvia has issued three building permits to the implementing party of European gauge railway project Rail Baltica in Latvia – permits to the corporation Eiropas Dzelzceļa līnijas are issued for the implementation of Rail Baltica Riga station, bridge and embankment project. Building permits are reveived for the reconstruction of Riga central passenger station building and passenger platforms, reconstruction and facilitation of the adjacent territory to the building, construction of a new railway bridge to accommodate the Rail Baltica 1435 mm gauge tracks (section from Maskavas Street to Jelgavas Street)m and for the reconstruction of existing VAS Latvijas dzelzceļš railway infrastructure 1520 mm gauge tracks and construction of Rail Baltica railway infrastructure 1435 mm gauge tracks in the section from Jelgavas Street to Lāčplēša Street.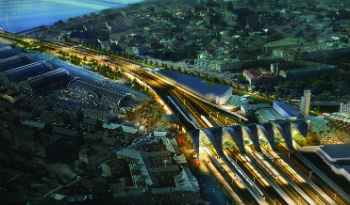 Agnis Driksna, board member of Eiropas Dzelzceļa līnijas, said: "The fact that the permits are granted means a green light for the design and construction; however, several homeworks are yet to be done. The next step is the elaboration of the design order to launch Stage Two of the international public procurement at early 2018 and the suitable candidates might be provided with an order: to submit their offers for the performance of design and construction works. As reported previously, in 2020 the construction works shall be launched, while the design shall be carried out until then.
Eiropas Dzelceļa līnijas, which is in charge of the reconstruction of the Central station and construction of a new Daugava crossing within the State Railway Technical InspectorateRail Baltica project, has drafted the minimum scope of the construction plan, carried out technical inspections of structures, prepared description of the design territory and existing infrastructure, prepared explanatory descriptions of the project reconstruction works, and developed technical drawings. Now, Eiropas Dzelzceļa līnijas and its cooperation partners are working to define the contracting authority's requirements for the technical specifications."
As reported, the deadline for Stage One of the international public procurement "Elaboration of a construction plan and construction works of Rail Baltica Riga railway bridge, embankment and Riga central passenger station premises" ended in September. 7 international partnerships are willing to prove their experience by submitting their bids to Eiropas Dzelzceļa līnijas according to tender regulations. There are leading Latvian construction companies and experts among these partnerships. At present, Eiropas Dzelzceļa līnijas undertakes the assesment of submitted bids to shortlist candidates, who will be invided to submit their offers for Stage Two.
The design and build tender has high qualification requirements, since the project shall merge rilway, including railway pass-overs, bvridge and road construction skills. Until now, there was no need to bring such skills together in Latvia.
As reported previously, the estimated project costs amounted to 186 million Euro, and the cost estimation was done in 2015 within the feasibility study by AECOM. According to the sketch design contest results, the solution based on the sketch design by PLH Arkitekter and COWI (Denmark) was preferred since it was able to meet the budget requirements, offering sustainable technical solutions of due quality and efficient use of resources, and it provided justified scope of building and sequence of works.
In general, integration of Rail Baltica within Riga multimodal transport hub will improve accessibility for disabled persons, safety, mobility, and transport availability. It will result in serving passengers travelling on both railway gauges. New street junction at Elizabetes and Timoteja Street will relieve traffic on nearby streets. New connection between city centre and Pārdaugava – bridge incorporating a pedestrian and cycle road over Daugava – will serve as a visual and functional link between both side of the city: the Old Town and Riga Central Station. The renovation of southern side of Riga Central Railway Station will result in quality public outdoors premises.
To prevent the harmonic development ideas from the sketch design contest for Riga urban environment from getting lost, the Ministry of Transport has proposed establishing a supra-institutional coordination council to support cooperation of the state, Riga City stakeholders and third parties. The first meeting is scheduled for early November.
The project is being implemented with the 85% co-funding of CEF (Connecting Europe Facility) and 15% national budged co-funding.