On 12 September, a Rail Baltica Business Network event took place in Kaunas, with the participation of Catherine Trautmann, European Coordinator for the North Sea-Baltic core network corridor, Kaspars Briškens, Business Development Manager of RB Rail AS and Mindaugas Kvašys, Project Manager at Civitta as well as participants representing the local business community.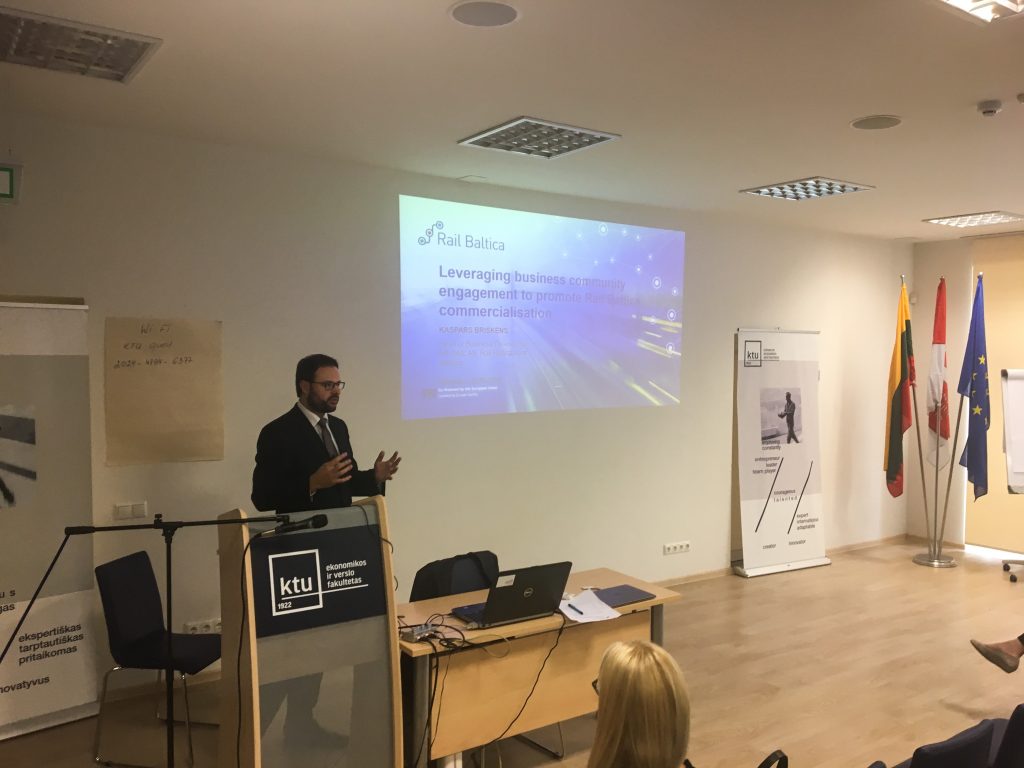 At the event, Catherine Trautmann talked about the Rail Baltica's role in the changing transport landscape and introduced with the latest update on freight traffic development in the European Union (EU), stating that Rail Baltica is the key missing link on the North Sea-Baltic Corridor. She described Rail Baltica as a geostrategic opportunity to truly integrate Baltic States into the EU, connecting the Eastern part of the Baltic Sea Region to Western Europe. "A close dialogue with the future users of Rail Baltica is key for its success. Rail Baltica is there to benefit the citizens and businesses across the Baltic States, Poland, Finland and beyond, with new opportunities for trade and economic growth. Involving business stakeholders at the planning and design stage will ensure that those benefits can be maximized – a classical win-win situation," Catherine Trautmann pointed out.
"Rail Baltica has the potential to become a truly transformational infrastructure: boosting connectivity, changing mobility patterns, laying the foundations for a modern passenger and freight logistics development and thereby setting in motion a new North European economic corridor," Kaspars Briškens pointed out.
He continued by saying that "this should by no means be taken for granted, as there are critical prerequisites to successfully deliver the Rail Baltica business case beyond the delivery of the physical infrastructure – including a comprehensive and forward-looking engagement with the future users and customers of Rail Baltica and a model of Rail Baltica infrastructure management that is conducive to a well-functioning railway and logistics market along the Rail Baltica corridor and beyond."
Mindaugas Kvašys described the findings of the Rail Baltica end-customer study and the concept of the Rail Baltic Business Network. The study reflected that conventional rail freight types have reached their maturity and had shown signs of the decline, while growth in the transport industry will reflect the overall economic development of the Baltic region and is expected to outperform the EU average.